Welcome to Gainium's referral program guide. In this article, we'll walk you through the inner workings of our system, ensuring that you maximize your earnings and understand the benefits it brings to you and your referred friends.
To get started, visit your affiliate dashboard.
How the Referral System Works
Link Activation & Duration:
Once visitors click on your Gainium referral link from your website or any other publishing location, they are directed to the Gainium website.
From this point, visitors have a 30-day window to complete their registration to connect your accounts.
However, there's a catch: if the visitor clicks on another referral link or returns to the Gainium website via another coded advertising link within these 30 days, your referral link gets overwritten. In simpler terms, that visitor's account won't be linked to you, and you won't earn a commission from them.
Referral Commission & Levels:
The commission you earn from referring a new user to Gainium depends on the number of successful referrals (that paid for a subscription) you've made in the past 30 days. Here's the breakdown:

Level 1: Earn a 30% commission with 0-4 referrals.
Level 2: Earn a 35% commission with 5-24 referrals.
Level 3: Earn a 40% commission with 25-49 referrals.
Level 4: Earn a 45% commission with 50-99 referrals.
Level 5: Earn a 50% commission with 100 or more referrals.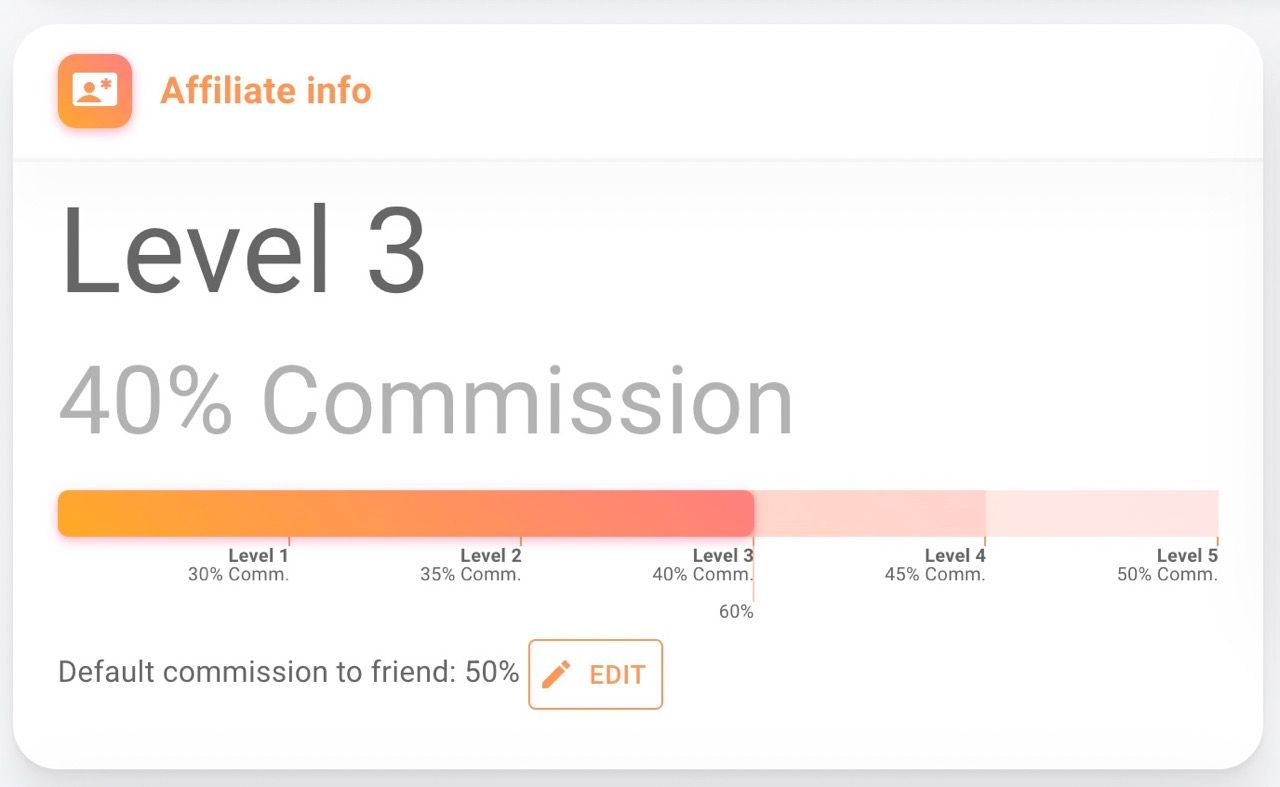 Getting started with referral links
Generate a new link: As an affiliate, you can generate distinct links for various campaigns or platforms. This helps in ensuring that each link you create aligns with the specific audience or strategy you have in mind.
Choose a unique Identifier: Each link you generate will have an additional unique identifier. This isn't just a random string of characters; it's a powerful tool that enables you to split stats and differentiate the performance of one campaign from another.
Deep Dive into Stats: With these identifiers, you can gain insights into which campaigns drive the most traffic and conversions. Perhaps your Twitter audience is more engaged than your blog readers, or a promotional strategy is outshining the rest. These insights allow you to allocate your efforts more efficiently.

Benefits for referred users
Splitting the Commission with Referred Friends
Gainium offers a unique feature that allows you to split your commission with your referred friend. This means they can receive a discount when they use your referral link to make a purchase.
You can set the commission split on a per-link basis. Let's illustrate this with an example:
Assume you're at Level 5, enjoying a 50% commission. You create a referral link with a 50-50% split. Your friend is considering a subscription priced at $500.
When they use your link, 50% of the purchase value, which is $250, will be split between you. Each of you will receive $125.
Your friend will see this $125 discount on their purchase, reducing their total payable amount to $375. Meanwhile, you'll receive a credit of $125 in your account when the purchase is completed.

Extended Trial Period for Referred Users
A special perk awaits those who join Gainium through an affiliate link! Recognizing the trust and confidence shared by our affiliates; we're offering an extended trial period for users who sign up via these referral links.
Typically, new users receive a 7-day trial period to explore Gainium's features. However, when your friend registers using an affiliate link, their trial duration doubles to 14 days. This means they get an entire fortnight to dive deep into what Gainium offers, understand its capabilities, and see firsthand how it can revolutionize their trading strategies.
Getting paid
Payout to your wallet: You can request a payout once your affiliate wallet balance exceeds 25 USDT. When you're ready to cash out, specify the wallet address where your funds would be transferred. Ensure it's accurate, as Gainium cannot reverse transactions made to incorrect addresses.
Transfer to Payment Wallet: Not interested in cashing out just yet? No worries! Transfer your referral earnings directly to your payment wallet. This lets you use your accrued rewards to purchase a Gainium subscription. There's no minimum amount required for this transfer. However, remember that the operation cannot be reversed once transferred to the payment wallet. So, choose wisely!
Locked Affiliate Funds
Gainium implements a "locking" mechanism for affiliate earnings to maintain transparency and fairness in our referral system. This approach has been crafted to manage scenarios wherein a user, referred by an affiliate, requests a refund for their purchase.
How it works:
Monthly Payments: If a user subscribes to a monthly package, the commission credited to the affiliate will remain "locked" until the subscription period concludes. Once the month ends and no refund was issued to the referred user, the affiliate funds are fully unlocked and made available for withdrawal.
Yearly Payments: Given the extended duration, the commission on yearly payments is unlocked incrementally. For each month that passes without a refund request by the referred user, a proportional part of the affiliate's commission becomes available. This means that the entire commission amount will be unlocked by the end of the yearly subscription period, assuming no refund was processed.
This locking system is designed to protect the interests of both Gainium and our dedicated affiliates. It ensures that commissions are granted genuinely for successful and sustained referrals, thereby preserving the integrity and trustworthiness of our affiliate program.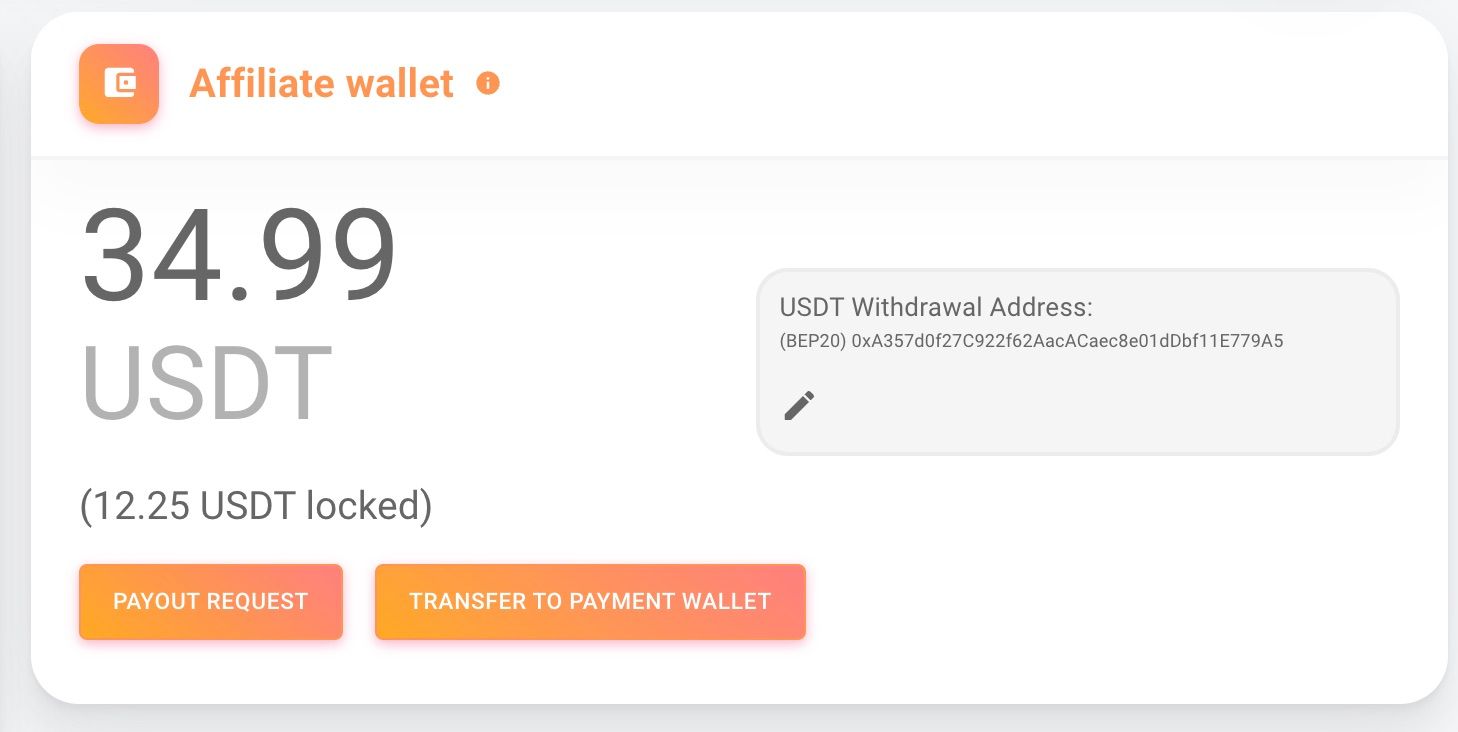 In Conclusion
Gainium's referral program rewards you for bringing in new members and ensures those who join via your link benefit. The system is designed to provide value for both parties, reinforcing a bond of trust and mutual benefit.
For any further queries or issues related to the referral system, don't hesitate to reach out to our support team.