Overview
While you've probably heard of Binance, the world's biggest exchange, you may not know that it offers a few choices for automated trading on its platform.
Binance provides Spot Grid, Futures Grid, and TWAP Futures bot. If you are a Binance user, then you may want to consider using their integrated trading bots.
Features
Let's review the trading bots that Binance offers in more detail:
Spot Grid and Futures Grid
Binance Spot grid and futures grid bots are great tools to profit from ranging markets. The grid bots place buy and sell orders on a price range, profiting from price fluctuations.
Other than the usual grid bot settings for the upper price, lower price, and the number of grids, Binance offers a few extra settings on its spot grid bot:
Grid trigger price: This is the price that will activate and run the grid. The grid bot will remain inactive until this price has been reached.
Stop loss and take profit: When the price reaches either of these, the bot will sell the base and stop.
Unfortunately, these options are not available on the Futures Grid bot. Instead, you need to choose the direction (neutral, long, or short), the type of margin (cross or isolated), and the leverage (up to 20X).
TWAP Futures
The TWAP (Time-Weighted Average Price) Futures bot aims to get an average entry price close to the time-weighted average price of the specified period.
The TWAP strategy is usually performed to minimize the impact of a large order in the market by splitting the large order into smaller quantities, which are then executed periodically.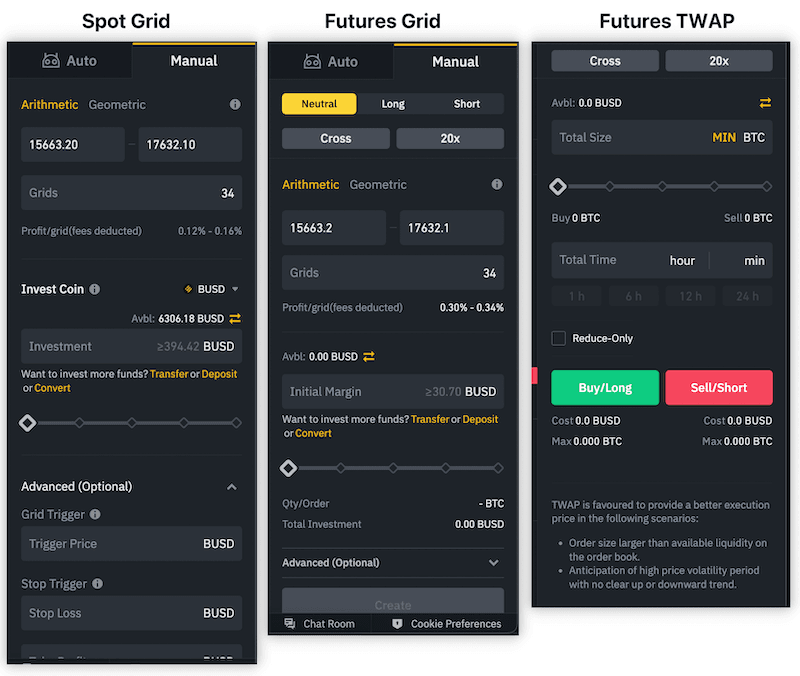 Binance Auto Invest (periodic / time-DCA / HODL bot)
Binance has an auto-invest feature, which serves the same purpose as what other platforms may call a periodic, time-DCA, or HODL bot. You start by creating a portfolio plan and setting which assets and allocations you would like to invest in, then choose an amount per period, and lastly, the frequency of the auto-invest cycle.
Binance auto invest doesn't have many bells and whistles, but it gets the job done if you are looking for a simple time-DCA strategy.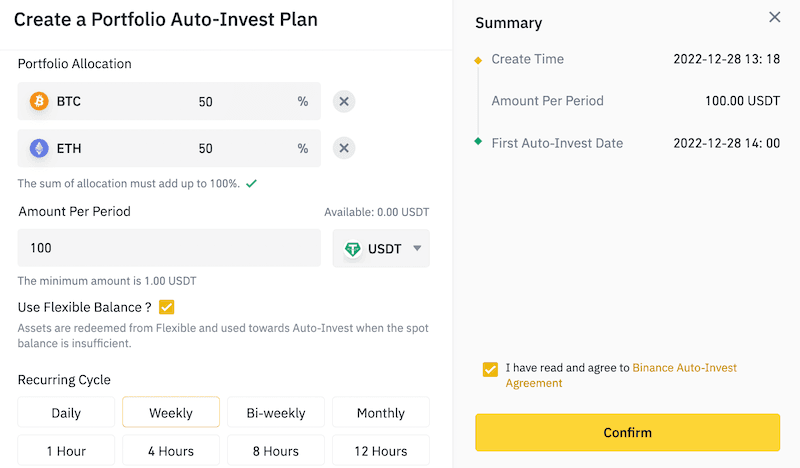 Ease of Use
Binance bots only offer a handful of features; therefore, setting them up and deploying them is very straightforward. Binance also has a comprehensive library of help articles and videos in its academy section, so you can easily find answers if you ever get stuck.
Customer support
Binance has excellent customer support that is available via email and also they recently started live chat to speak one on one with the customers. The live hat is 24/7 and it supports the ticket chat resource. This newest feature is available on the mobile app and web.
The support email is support@binancehelpdesk. Support is also available via Twitter.
Security
Binance uses Two-Factor Authentication to protect the user's account. In addition, Binance implements cutting-edge security practices.
Binance has built a reputation of security and vigilance and is considered one of the safest cryptocurrency exchanges in the industry, with many traders trusting it with their funds. For beginners looking for an exchange that is secure, Binance comes highly recommended because they have a reputation for being transparent and proactive about taking action to fix any security loopholes that come up.
Who is it for?
Binance bots could be a great choice if you:
Already trade in Binance
Are beginner or intermediate trader with simple trading strategies
Would like to start accumulating your favorite tokens
Binance Bots VS Gainium
Conclusion
Binance bots may be less feature-packed than other platforms, but they are backed by the world's most trusted exchange.
If you are a Binance user and would like to execute a simple grid or time-DCA strategy, then Binance bots are a great option.