Overview
Coinigy is a platform that allows traders to aggregate all their wallets and accounts across over 45 exchanges into a single interface.
The platform also allows you to trade hundreds of currencies anytime, anywhere using its mobile app which is available on both iOS and Android.
Coinigy offers price, volume, and trade alerts through SMS, email, and mobile push.
Features
As a multi-exchange trading platform, Coinigy offers traders the opportunity to access global financial markets and the power to make quick decisions about the cryptocurrency markets. It has maintained its reliability and security over the years with the help of dedicated and talented developers and analysts.
Here are some of the platform's most prominent features:
Connection to over 45 exchanges
The large selection of supported exchanges is one of the main selling points of Coinigy. The API integration allows you to set alerts, place and cancel orders, have access to pertinent market information, and refresh your balances as need.
Trading terminal
From the trading terminal, traders can access unlimited analytical and live data, chart layouts, and powerful technical indicators to inform their trading strategies.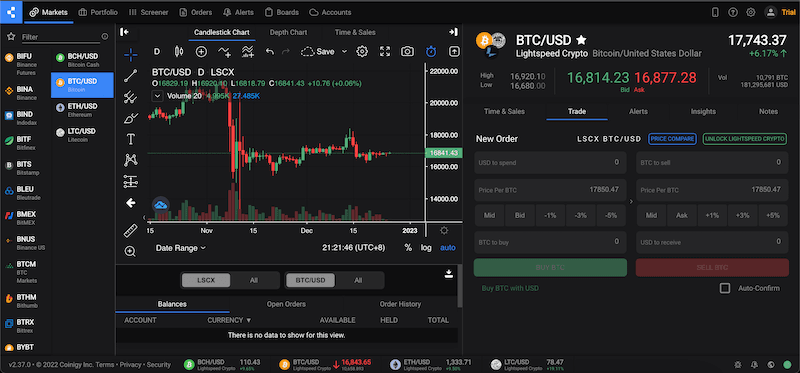 Portfolio Monitoring
Portfolio monitoring is essential for traders because it helps them rebalance their investments and bring them back on track, especially with market fluctuations. And monitoring all your investments from one interface like Coinigy is convenient and efficient.
Trading insights
Coinigy offers plenty of trading insights. Some of these tools include:
Technical indicators
Live data news feeds
Up-to-date charts
These tools are available on both the web and mobile versions of the platform. Coinigy also allows traders to download historical trading data to help users access vital past market data.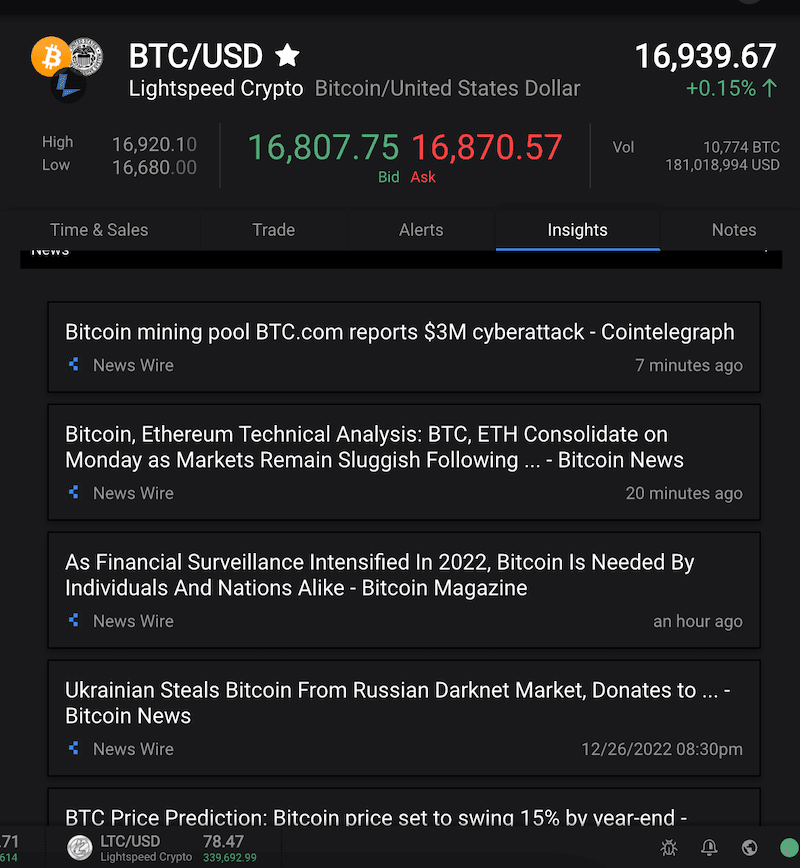 Ease of Use
Although Coinigy is a cloud-based crypto platform, it is just as easy to use as traditional cryptocurrency exchanges with the exact features you can find on other platforms. It utilizes the same pair tracking tools, charts, and data feeds and gives newbies on the platform 30 days trial free with access to:
Unlimited trading
Over 75 indicators to make the process even simpler
24/7 portfolio management
The signup process is quick, and you can start trading within minutes.
Pricing
There are two main pricing plans after a 7-day free trial period elapses. These are the Pro Trader package and the API Developer package.
The main and significant difference between the two plans is the API access available on the API Developer Pro plan. And of course, this plan also guarantees you priority support in case you run into issues when using the platform.
Platforms
Coinigy is available as a web platform and android and iPhone apps.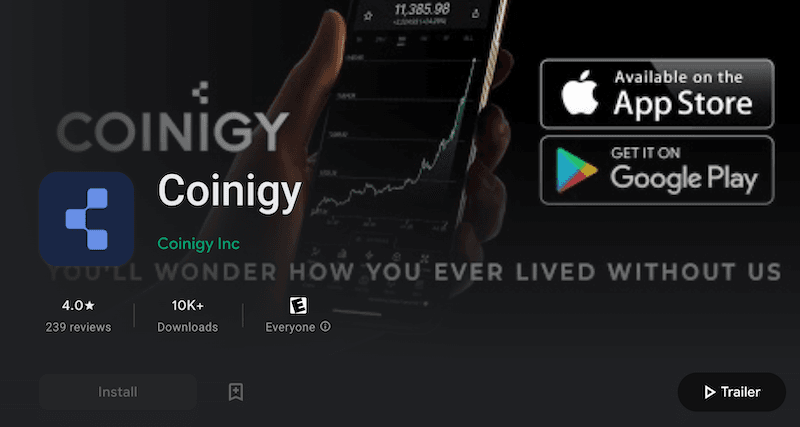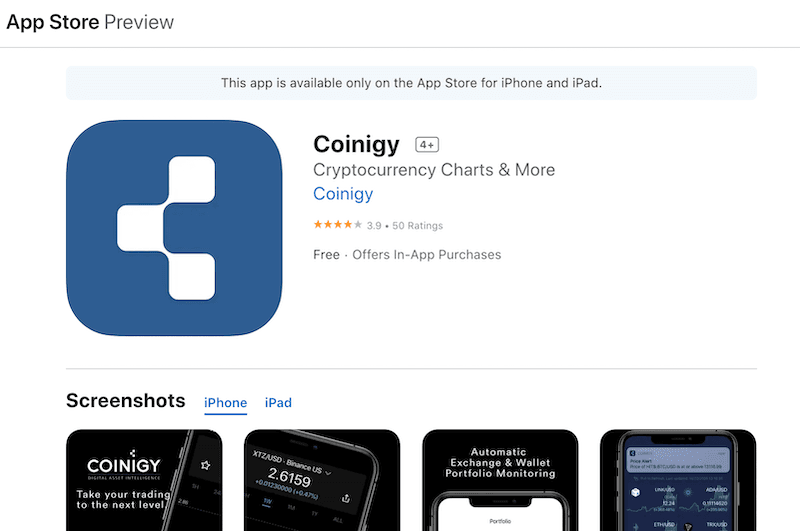 Customer support
Coinigy has a strong customer support team that ensures all users' queries and concerns are answered thoroughly and promptly. Users can access the support team via email ([email protected]) and live chat, and they are also available on various online platforms.
It is available on Twitter, Facebook, and Instagram, among other social channels. Users can also find the platform's FAQ section very helpful in answering some common questions concerning functions of certain features, issues about deposits, how to purchase coins, and other queries about managing accounts.
Security
The security on the platform is guaranteed because it never hold money for its users but simply provides them with access to wallets and exchanges that will hold the money for them. As a conduit for the trading process, it has never been hacked and remains secure for all trading processes.
It uses the Two Factor Authentication which keeps the users information and data secure on the platform. Once you sign up for the account, you will get an email prompt to put the 2FA in place.
In addition the platform uses the EAS 256-bit encryption protocol to protect the sensitive user data on the site. That means that everything you do on the platform is encrypted and protected by the secure socket layer (SSL). They also use a multi-layer sever structure to maintain server integrity. This ensures that user's requests are filtered and checked for XSS, session impersonation, clickjacking and CSRF attacks.
Reliability
There have been no reports of the platform being hacked and also it has not had lengthy or frequent downtimes unlike some other crypto platforms. Also, the fact that it has such strong connections with other exchanges gives it a reputation of reliability that is backed by action.
Updates
In 2022, Coinigy made good on its promise to add more exchanges to its repertoire by adding the now-defunct FTX.
Conigy's team readily fixes app bugs. However, it appears that new app features are far and between.
Who is it for?
Coinigy is a good choice if you:
Are mainly investing and do not trade coins often
Use some of the less popular exchanges that Coinigy supports
Would like good portfolio management tools
Appreciate the news feed while keeping tabs on your portfolio
Do not need trade automation
Coinigy VS Gainium
Conclusion
Coinigy's central proposition is an easy-to-use crypto trading platform that connects to over 45 exchanges and offers more trading insight than the exchange's terminals.
As a secure and reliable platform, it is a good choice for professional investors and institutions.