Overview
Cryptohopper is a web platform that enables automated cryptocurrency trading. Cryptohopper allows you to create automated bots with customized strategies or with signal providers from its marketplace.
Cryptohopper was founded in 2017, making it one of the oldest contenders in the crypto bot space. Since then, it has gained much popularity due to its ability to set up custom advanced trading bots or copy trade with a powerful interface.
Features
Cryptohopper has many notable features. Some of its most relevant ones are:
Trading bots (Hoppers)
With Cryptohopper's trading bots, you have a wealth of options to automate your trading strategy.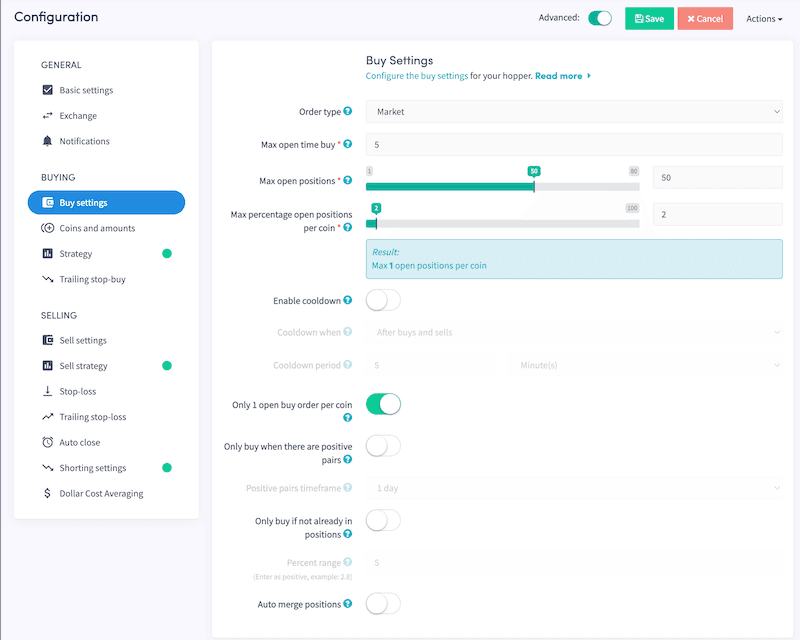 Hoppers need a strategy to operate. Strategies are the rules they will follow to open and close positions.
You can make a custom trading strategy for your hopper using a variety of indicators and candle patterns. Custom strategies can have any combination of indicators, chart patterns, and timeframes, making it a powerful tool that advanced traders will appreciate.

If you prefer a less hands-on approach, you can also use a built-in strategy developed by the Cryptohopper team or connect your hopper to a signal provider from the marketplace.
Cryptohopper marketplace
The marketplace contains strategies, bot templates, signals, and copy bots.
As discussed earlier, hoppers need a strategy to open and close trades. The marketplace has a vast collection of free and paid strategies. Paid strategies are developed and maintained by pros, making them a great choice for beginner traders.
Signals, on the other hand, are special strategies built with custom algorithms by professional traders.
Bot templates are configurations other than the bot strategy. These configurations may contain specific settings for take profit, stop loss, and DCA. Just like trading strategies, the marketplace have a collection of free and premium bot templates that anyone can use.
Oftentimes, certain bot templates are recommended to be used together with certain strategies or signals. Though they can be used separately.
Lastly, copy bots are a done-for-you solution to trade automatically based on the activity of professional traders. These copy traders already manage the trading strategy and bot template, so there is no additional configuration to worry about.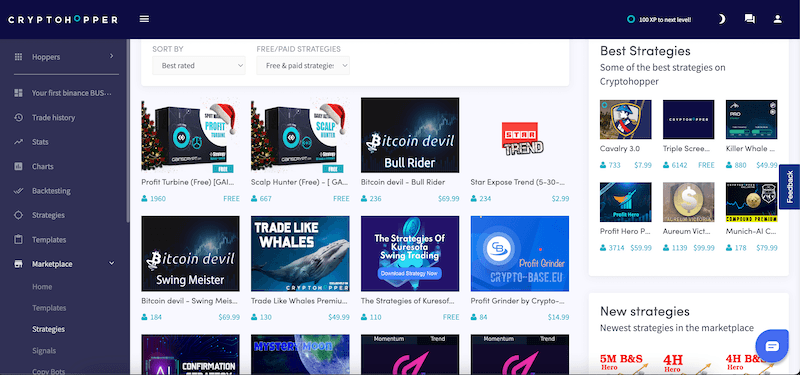 Paper trading
The paper trading feature is present on all the exchanges found on Cryptohopper. All aspects of the paper trading experience are in real-time and real but without the risk of making losses. paper trading is one of the most popular features on Cryptohopper because it teaches new traders how to work the trading process and train themselves to put emotion aside.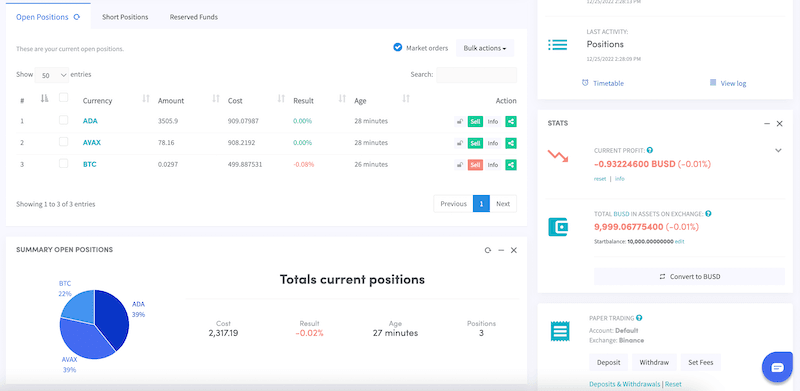 Throughout my tests, I found paper trading to be quite robust. However, I was a bit disappointed to find out that adding extra paper trading accounts will set you back a one-time fee of $49.99.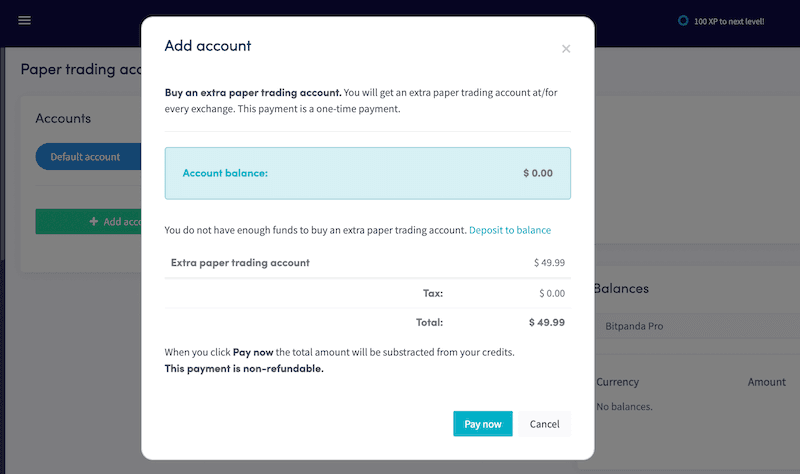 Backtesting
Cryptohopper also has a backtesting tool to test trading strategies with past data, yielding useful information. Cryptohopper backtesting is loaded with features. Backtesting and paper trading are essential features to help fine-tune your strategies.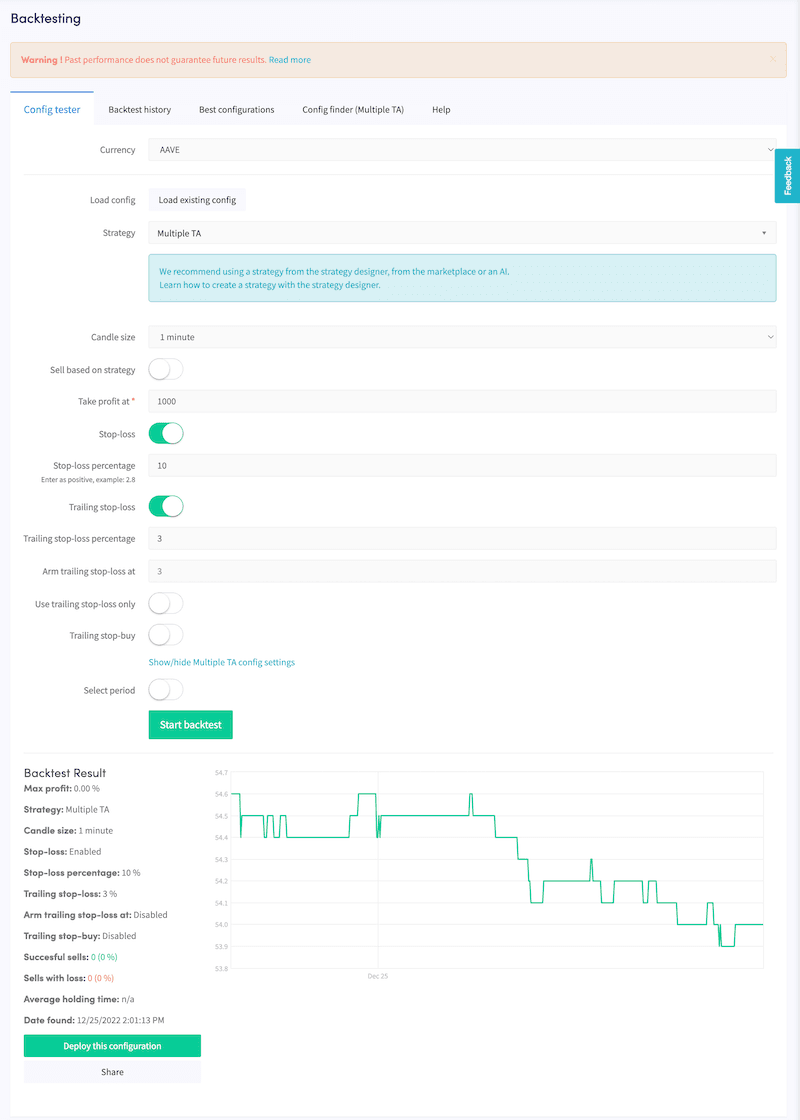 The backtesting module has a "Configuration finder," which will automatically backtest random configurations within your strategy and find the best combination. Though it may be tempting to let the configuration finder choose the best combination of options within your strategy, you have to be careful with overfitting your strategy. When testing hundreds of thousands of combinations, you may find a particular combination that performs well for that particular period, but it will likely underperform on actual market data. I do not recommend using a strategy optimizer unless it has a way to avoid overfitting, such as in-sample and out-sample testing.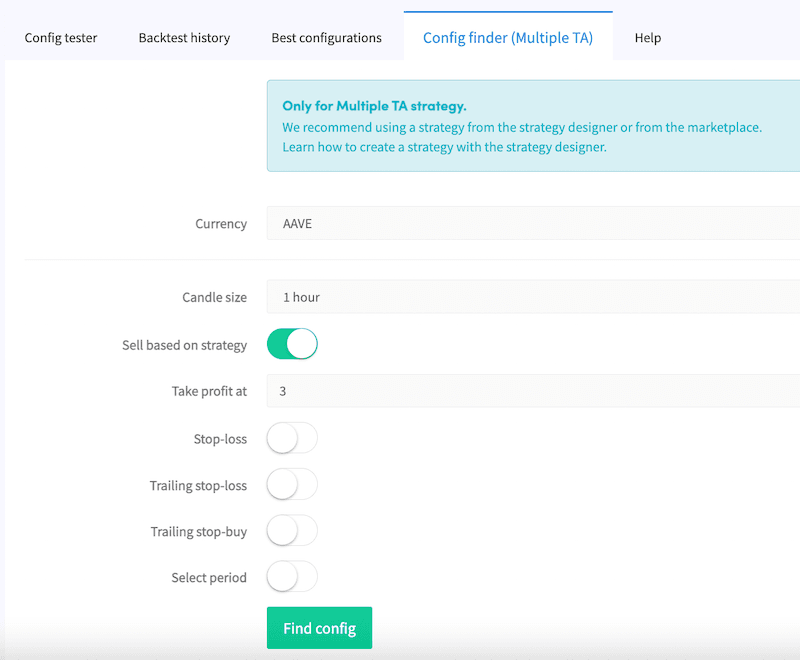 Something to consider is that while you can backtest a strategy configuration, certain bot options are not backtestable. As explained earlier, a hopper comprises the trading strategy and the bot template. The trading strategy contains the rules for opening and closing the trades, while the bot template contains other options such as take profit, stop loss, or DCA settings.
You can backtest trading strategies. However, the bot template settings are not considered on the backtest.
Ease of Use
Cryptohopper is one of the most feature-packed bot platforms available, and as such, there is a steeper learning curve compared to other trading platforms geared toward beginner traders.
Something that took a while to wrap my head around is the account structure. On most bot platforms, you pay a subscription fee that includes several bots. On Cryptohopper, each bot has its subscription fee, so you can think of each bot as its account. The menu settings on the left side show the information for the active bot, which is selected at the top of the menu.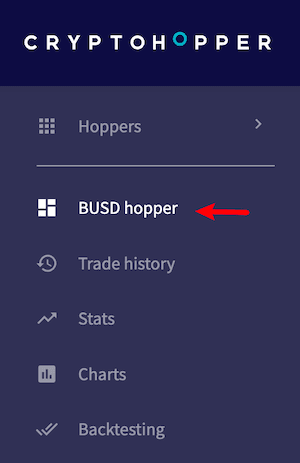 It also took me a while to grasp the concept of strategy, signals, and bot templates. A Hopper comprises the trading rules, which can be a strategy or a call, plus the bot template, which is everything apart from the trading rules. The fact that you can make your strategies and templates and get free or premium strategies, signals, or bot templates from the marketplace makes it a bit overwhelming in terms of possible options and combinations.
If you have decision paralysis like me, you may find Cryptohopper challenging to get around to. If you love testing all the little details and configurations, then Cryptohopper might be what you are looking for.
Cryptohopper support all the major exchanges. Currently, there is only support for spot trading, though they may facilitate futures trading later.
Pricing
CryptoHopper offers four different pricing plans for their bot, which are listed below. CryptoHopper discount codes are frequently available as well.
| | | | |
| --- | --- | --- | --- |
| Pioneer: Free package (7-day trial) | Explorer: $19/Month (Try for 7 days for free) | Adventurer: $49/Month | Hero: $99/Month |
| 20 positions | 80 positions | 200 positions | 500 positions |
| Portfolio management | Max 15 selected coins/assets | Max 50 selected coins/assets | Max 75 selected coins/assets |
| Manual trading | Max of 2 triggers | Max of 5 triggers | Max of 10 triggers |
| On all available exchanges | Technical Analysis (TA) with 10 min interval | TA with 5 min interval | TA with 2 min interval |
| | 1 Simulated Trading Bot | 1 Simulated Trading Bot | All coins for signals |
| | | Exchange Arbitrage | Market arbitrage |
| | | | Market making |
| | | | Algorithm intelligence (Beta) |
Remember that these subscriptions are per bot, making Cryptohopper an outlier in terms of its pricing structure. However, considering that Cryptohopper has one of the most advanced customization options, it makes sense that they went for this pricing model.
Platforms
Cryptohopper can be accessed from any device through the web platform and from android and iPhone thanks to its mobile apps.
While the iPhone app has good reviews in terms of design and features, that doesn't seem to be the case for the android app. Android users often complain about its stability, design, and technical issues.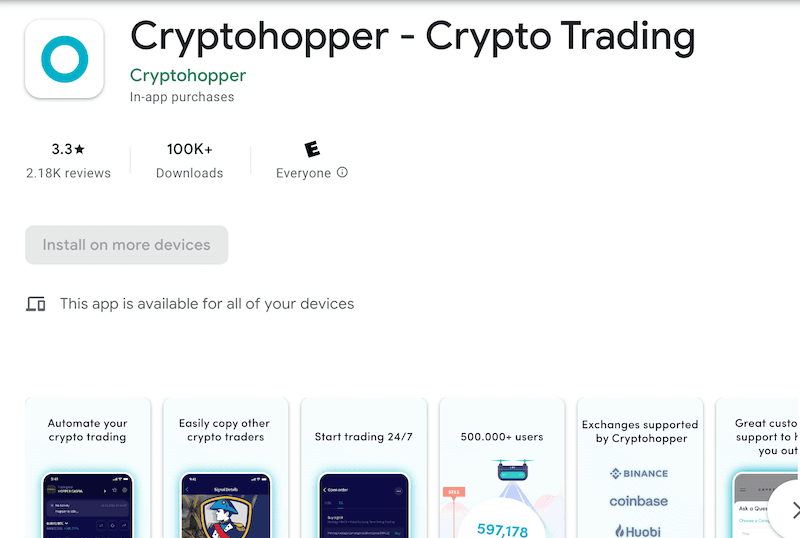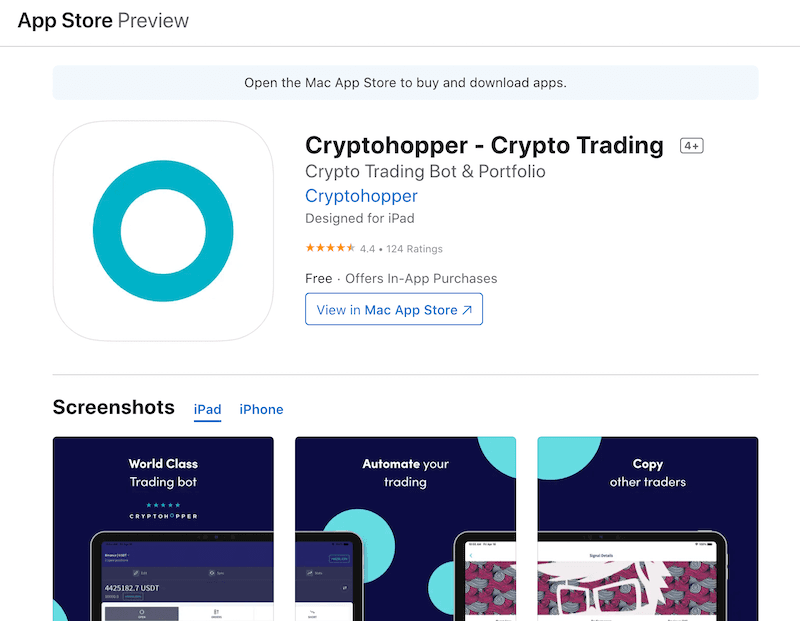 Customer support
Cryptohopper provides users with a few methods they can use to contact customer support:
Via Online Chat: You can connect directly to live chat or browse the company's FAQs via the chat application (the button in the lower right corner of the website). Although you'll connect to a chatbot first, you can connect with a team member if you can't find your answer in the current FAQ.
Through a support ticket service: You need to have a Cryptohopper account (a free one is enough) to use customer service.
I have used their customer support and had a great experience. Though as is the case with many big companies, some customers have complained about the customer support experience.
Security
Some users feel apprehensive when Cryptohopper or other trading bot platforms ask them to provide their API keys for their exchange accounts, and for a good reason. After the recent incident involving 3Commas allegedly leaking API keys which resulted in the loss of funds of its users, it is now more important than ever to take account security seriously.
Cryptohopper used to allow users to withdraw funds from their exchange via API. However, due to security concerns, this feature was disabled. Hence, Cryptohopper does not have withdrawal rights, so they can never actually withdraw money from your account.
It is also important to note that while trading bots do not have withdrawal access if compromised, malicious actors can leverage a bot's API access to purchase extremely low-value coins, which are then "pumped and dumped." This has happened in the past and is a security issue that needs to be addressed by both trading bot developers and cryptocurrency exchanges. One way to prevent such risk is to enable IP whitelisting and coin pair whitelisting in your exchange API key. Unfortunately, Cryptohopper does not support IP whitelisting right now, so users should proceed with caution and at the very least, enable coin pair whitelisting. Learn how you can increase the security of your API keys.
Reliability
Cryptohopper is a mature company with thousands of users; hence it had plenty of time and opportunities to fix bugs and improve its reliability. On the flip side, they are also one of the most feature-rich, and the more features, the more chances for a bug to pop up.
That said, the platform has done pretty well during my testing, with no technical hiccups whatsoever. I've done some research, and it appears that the platform is stable, though according to its uses, the android app could use some improvements.
Updates
The platform is constantly improving its products and always seeks the safety of its users. They have faced multiple technological problems throughout their history that they have successfully met and overcome.
One of them was in 2020, when they decided to migrate their database model from MongoDB to PostgreSQL to improve the number of transactions per second they supported and the protection and integrity of the data.
To do this, they carried out a plan that allowed them to complete the migration without downtime successfully while their platform was in production. In the news section of their site, they have a published blog called "Seamless MongoDB to PostgreSQL migration" where the entire process is explained in greater depth.
Who is it for?
Cryptohopper can be an excellent choice for if you:
Are an advanced trader
Trade mostly using bots
Need to automate one or few trading strategies
Your trading strategy is fairly complex
Need paper trade and backtesting capabilities
CryptoHopper VS Gainium
Conclusion
Cryptohopper has been designed to provide the advanced cryptocurrency trading community with a powerful solution. Combining highly customizable bot strategies and third-party signals and strategies through their marketplace gives traders more options.
While Cryptohopper powerful bots are geared toward advanced traders due to their learning curve, the team has put considerable effort into developing community-led education and resources. Also, the zero-config copy trading feature is suitable for beginner traders who want to profit without designing and maintaining their own strategies.
Cryptohopper's pricing model differs from other platforms because they charge a subscription per bot. Therefore, Cryptohopper is better suited to traders who want to develop one complex strategy than traders who want to test and deploy many different strategies.