Overview
Cryptx Terminal is an online crypto trading terminal with basic automation features. Cryptx is a good option for traders and investors of all skill levels who want to trade across exchanges from one single interface.
Although Cryptx Terminal is somewhat limited in features, according to my testing, users may enjoy the simplicity and clean interface.
Features
If you have your funds spread across several exchanges, you may be looking for a tool to trade across exchanges and get a birds-eye view of your portfolio. CryptX Terminal offers that and more, making it a good choice for crypto traders and investors.
Trading Terminal
The bread and butter of Cryptx Terminal is, as you've probably guessed, the trading terminal. The trading terminal offers a convenient way to get information about the trading pair, including price and volume. The order book and live trade windows provide real-time insight into market liquidity.
Traders can submit limit, stop-limit, and market buy and sell orders and keep tabs on open orders.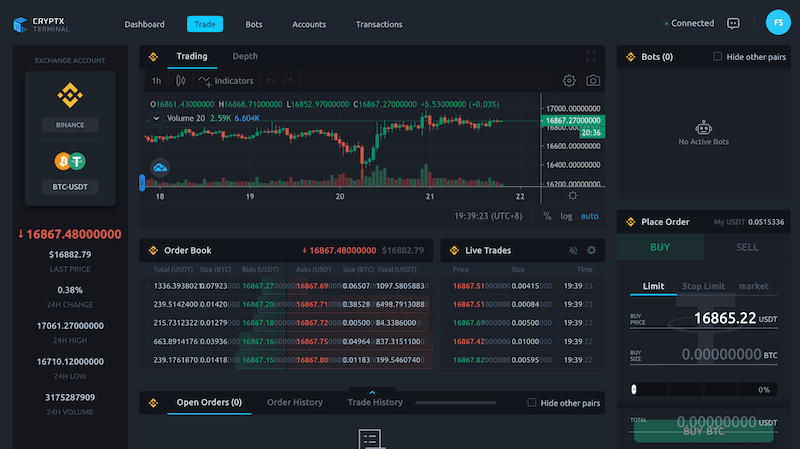 Although the interface is neat and the trading process enjoyable, I was missing some features readily available in many other crypto trading tools. Most notably, I wished for features such as take profit, stop loss, and laddered or dollar-cost average (DCA) entries.
Pre-programmed bots
Cryptx bots are pre-programmed to follow a specific strategy. There are ten kinds of different bots you can use.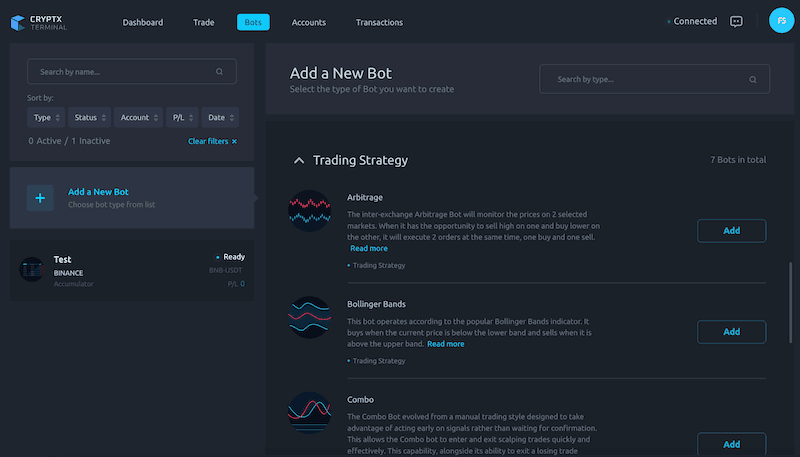 Portfolio management strategies:
Accumulator: Place buy orders at random within particular criteria.
Multi-order accumulator: Same as the accumulator but placing laddered orders.
Rebalancing
Trading strategies:
Arbitrage
Moving Average Convergence/Divergence (MACD)
Bollinger Bands (BB)
On Balance Volume (OBV)
Order Chain: Place orders in a defined timeline
Relative Strength Index (RSI)
Combo: Combines the MACD, BB, and RSI into one
The bots are very simple to configure, with only a handful of parameters, as shown in the screenshot.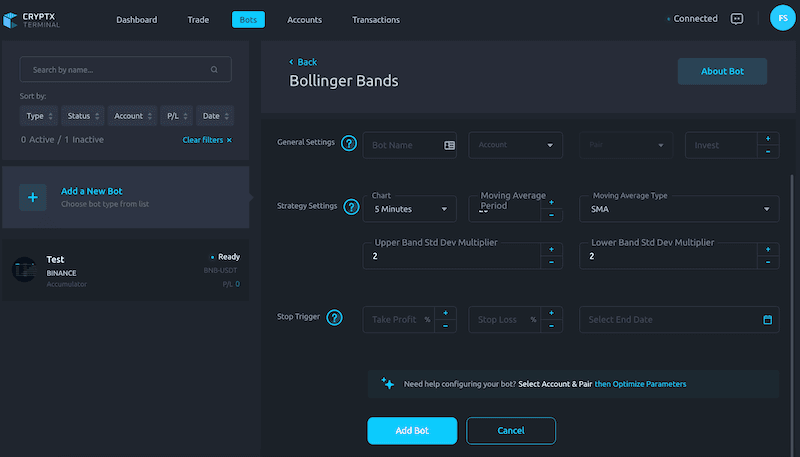 If simplicity is what you're after, these bots will do a fine job. However, these bots might fall short of the task if you are looking for a more advanced setup.
Backtesting
Although the platform touts backtesting capabilities, I could not find any information about how to perform a backtest. I contacted support, but they have not replied yet.
Analytics and KPIs
The dashboard page contains information on your portfolio distribution, which you can group by coin or exchange. You can also see your portfolio value over time, with the option to drill down on any specific period.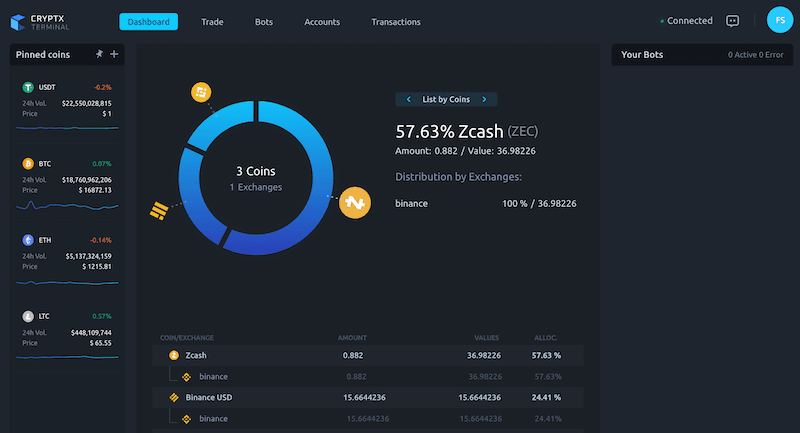 Ease of Use
You can find helpful onboarding-style popups throughout the app explaining what the features mean and how to configure the bots.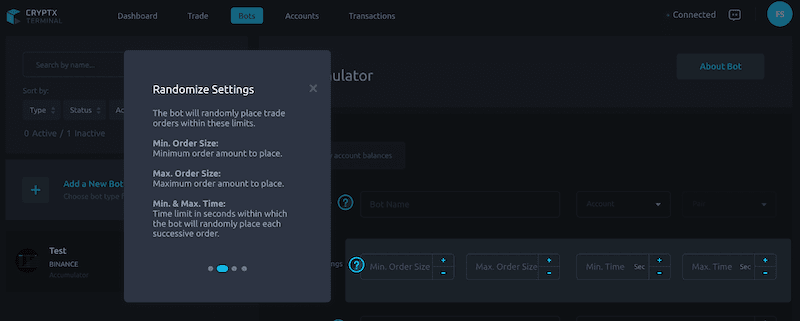 Although the explanations were there, I sometimes needed a little more insight.
Take, for example, the Accumulation bot in the screenshot above. I can see that it places random market orders of random sizes at random intervals. This seems to be another way to implement a HODL bot, but it begs the question, why randomize the buys instead of using the true and tested DCA strategy?
Besides that, I found the app very straightforward and easy to use.
The team at Cryptx did a great job integrating most of the major exchanges.
Pricing
Cryptx Terminal offers three pricing tiers. It is not the cheapest nor the most expensive trading platform out there, but considering the features available, I found the entry price of $400/year a little on the high side compared to other competitors.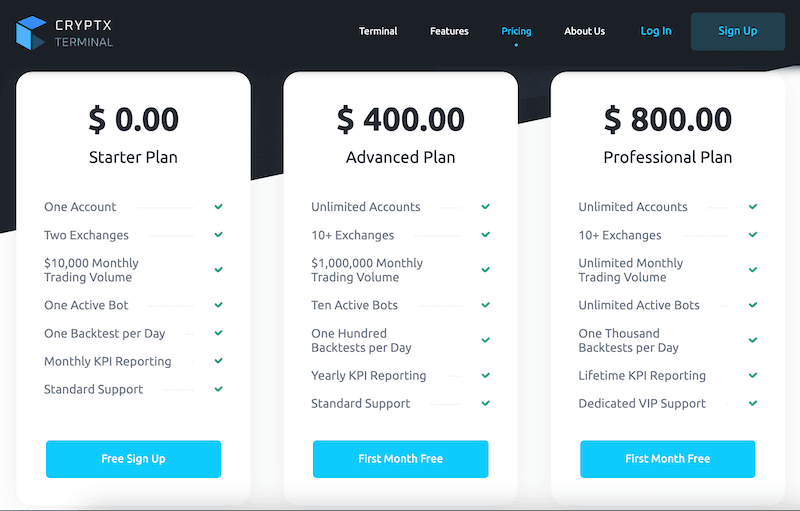 Who is it for?
Cryptx Terminal can be a great choice if you:
Are a beginner trader looking to automate a simple strategy
Would like to backtest strategies
Cryptx Terminal VS Gainium
Conclusion
Cryptx Terminal is a solid choice for users looking for an elegant and clean UI to manage their trades and portfolio across top exchanges.
Although I found it light on features for the price tag, beginner traders and investors might find more than enough for their needs.