Overview
Haasonline is a veteran of the automatic trading space. Founded in 2014, the company has gained popularity among serious crypto trades. More time in the market means more features and fewer bugs. So if you are looking for an advanced and reliable bot program, Haasonline shines in this regard.
In this review, we will look at what Haasonline offers and if they live up to its reputation.
Features
If you are a pro trader looking for a highly customizable locally hosted or cloud solution, look no further. Haasonline has developed Tradeserver, a tool for advanced traders that have been refined over the years.
Let's look at the most prominent features.
Drang-and-drop strategy builder
The visual strategy builder lets you develop, test, and deploy strategies in minutes instead of days. The drag-and-drop interface lets you add indicators, conditions, and more to your strategy. It's equipped with an impressive set of configuration options designed to give you plenty of flexibility to build a strategy, no matter how complex.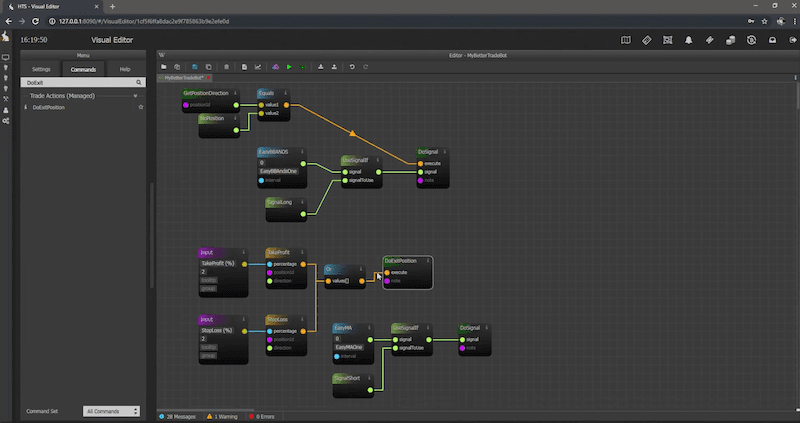 HaasScript
If you have coding skills, you can create your bot from scratch using HaasScript. With the script editor, you can create complex automated trading strategies, build technical indicators, and more.
There is also a handy pricing chart where you can see the output of your script, useful for testing and debugging.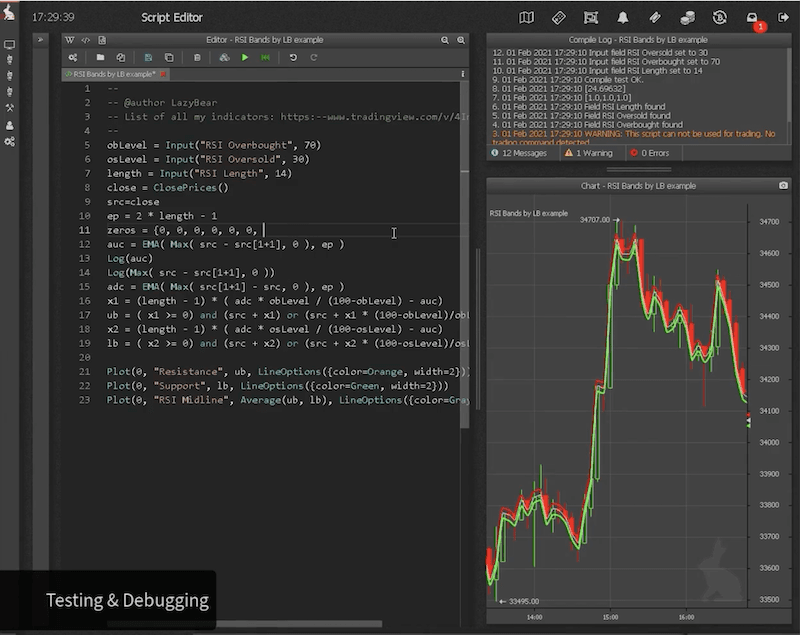 Backtesting and paper trading
You can test your strategies without risk, thanks to Haasonline backtesting and paper trading.
When you perform a backtest, you can see the list of past trades the strategy would have performed and its results. I wish there were more statistics about the strategy, rather than a long list of trades. In any case, you can export the list of trades and perform further analysis in a spreadsheet.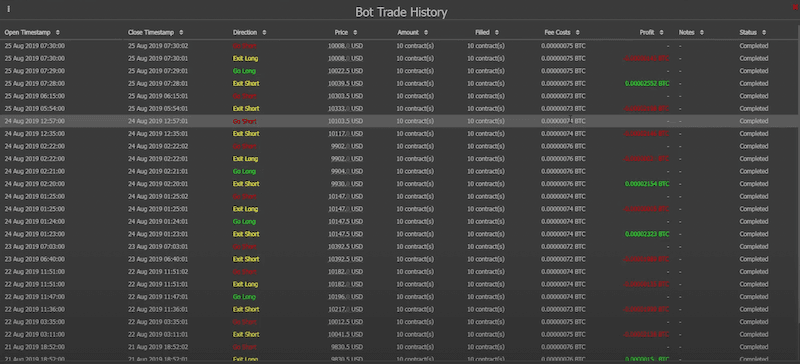 Tradeserver Cloud
Haasonline offer a cloud version of their trading software, perfect for those who don't want to deal with the cost and time required to maintain their own hardware. The cloud version has the same features as the self-hosted version.
Ease of Use
Haasonline is a powerhouse for building and customizing your automated trading strategy. The ample configuration options come with a necessary drawback, is not as easy to use and beginner-friendly as other platforms.
There are many help articles and videos to help you get started, though it seems that most of the official documentation has not been updated in several years.
Pricing
Haasonline has three tiers priced in Bitcoin. This can be a bit off-putting for many people since Bitcoin is a highly volatile asset. Hence, the cost in dollar terms can vary wildly depending on when you buy the subscription.
Therefore, assessing if the subscription price is fair can be difficult. The lack of a free tier and a trial are also barriers that prevent many beginners from using the program.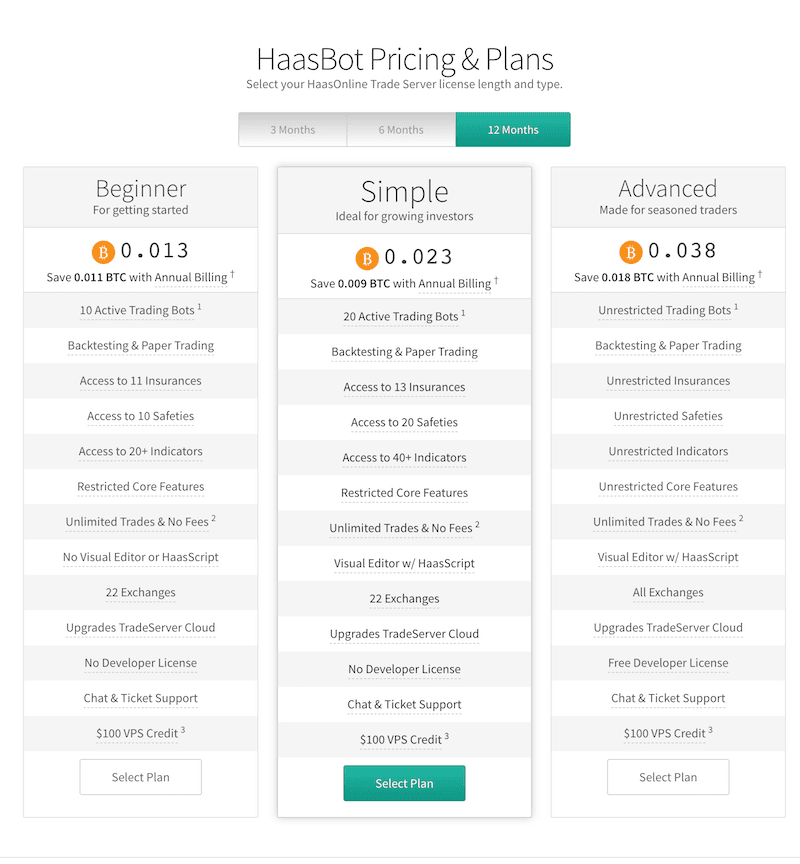 Customer support
Haasonline provides chat support, which is always appreciated for a quick response. However, chat support is only online during US business hours. If you try to reach them outside of these hours, they will get back to you via email. Support is responsive and users have great things to say about them.
There is also a Discord community that can offer help and learning material as you advance in your journey with Haasonline.
Security
Haasonline offers standard security features such as 2FA and encryption of sensitive data. Further, security is very important for you, you can opt for the self-hosted version and take security into your own hands. This way, your exchange API key never leaves your machine, and you do not need to worry about the security risks that come with a third-party safekeeping it.
Reliability
Haasonline has been operating since 2014, so it is safe to say that it is one of the most reliable trading software solutions that exist today. Haasonline is trusted by retail and institutional investors, which attests to its reliability.
Updates
Haasonline is a pioneer in the crypto trading software space, and its products are already mature. Once the innovation phase is over, many companies shift their focus to product stability, making marginal improvements on existing product features rather than trying to reinvent the wheel.
This is the case with Haasonline. While the company maintains the product and fixes bugs, there haven't been significant feature updates in recent years, as you can see on the beta release page. This will not be a deterrent for most serious trades, as there isn't anything new going on in the world of trading. However, some users might be disappointed as the UI feels a little dated.
Who is it for?
Haasonline can be a great choice if you are:
A trading institution that requires an on-premise solution
A professional trader who wants the highest degree of customization
Knowledgeable in coding languages and want to code your bot from scratch
Haasonline VS Gainium
Conclusion
Haastradeserver and HassScript have a steep learning curve, but that is the price to pay for the extensive customization choices offered.
The lack of trial and high price are factors to keep in mind if you consider using this platform.
Haasonline has a clear target market: advanced traders and institutional investors. Novice or intermediate traders might want to look for a more suitable alternative.