Overview
Shrimpy is a crypto trading platform focused on portfolio management. The platform supports ten exchanges, 13 wallets, and cold storage tracking, allowing crypto investors to get a birds-eye view of their portfolio value from a central place.
Shrimpy's features offer serious crypto investors a solid solution for their portfolio management and tracking needs.
Features
Shrimpy allows users to develop their own customized cryptocurrency index funds, automate their portfolio management strategies, and copy professionally developed portfolios. The main features Shrimpy offers are:
Virtual portfolios
With Shrimpy, you can create virtual portfolios, allowing you to have separate portfolios under the same exchange account. You can define your portfolios in the "Automation" tab. You may manually set a portfolio by choosing the assets and their weights or use the portfolio index functionality, which automatically creates a portfolio based on asset market cap and other parameters.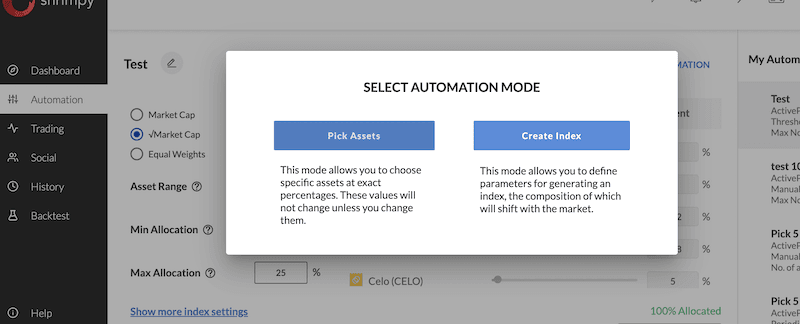 Portfolio rebalancing
You can easily keep your portfolio balanced thanks to Shrimpy's portfolio rebalancing feature. Shrimpy offers two rebalancing strategies: periodic and by threshold. With periodic rebalancing, the platform checks the asset distribution periodically and rebalances the assets if necessary. With the threshold rebalancing method, the platform monitors each asset's distribution and when an asset exceeds a certain threshold (15% change by default), it will rebalance the portfolio.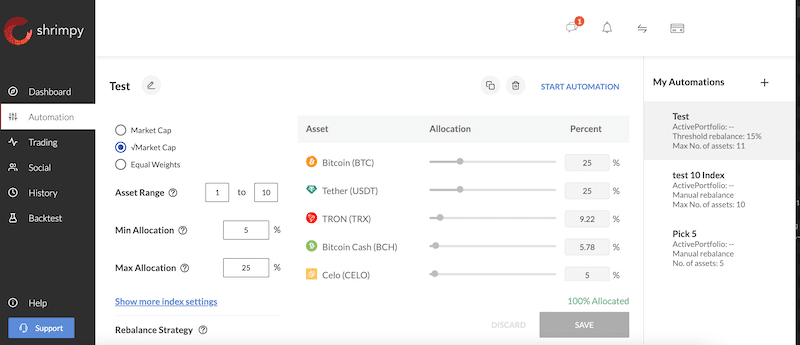 Portfolio stop loss
This feature lets you immediately liquidate your portfolio when its value has crossed a specific percentage.
The stop loss feature can be used to lock in a profit or limit your downside risk, depending on whether you use a positive or negative value, respectively.
For example, if you set your stop loss to 10%, it will sell it to a stablecoin when the entire portfolio's value increases by 10%. Similarly, if you set the stop loss to -10%, it will sell the portfolio if its value decreases by 10%.
Dollar-Cost Average bots (aka time-DCA, HODL bots)
Shrimpy also lets you DCA into your portfolio. Dollar-Cost-Average, also known as time-DCA and HODL bots, is an investing strategy whereby you periodically buy the same dollar amount of an asset over time, independently of its price. This way, you avoid the risk of investing a lump sum at the wrong time.
Shrimpy's DCA differs from other platforms in that it executes the DCA on the entire portfolio rather than a single asset. The DCA feature works as follows:
It detects a new deposit on the exchange.
It calculates how to distribute that deposit among the assets.
It executes the trades so that the assets are as close as possible to their set distribution at the end of the operation.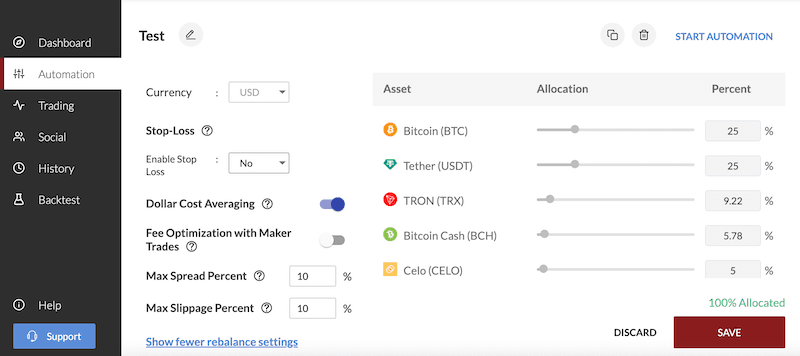 Backtesting
A nifty feature of Shrimpy is the ability to backtest your target portfolio allocation and rebalancing method using historical data. This way, you will know exactly how your portfolio would have fared in the past and use that information to fine-tune your asset distribution.
The HODL final value is the ROI of the portfolio if you would have bought-and-hold without any rebalancing.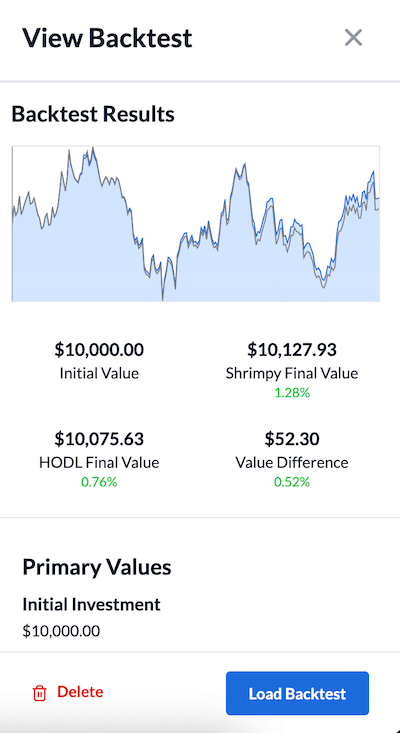 Trading terminal with smart routing
Shrimpy's trading terminal is specialized in transferring from one asset to another by calculating the cheapest way to perform the transfer. Smart routing works by analyzing all asset pairings offered on the exchange and determining the most efficient way to convert the assets.
This feature is especially useful to convert assets that have no direct pairing. Say, for example, that you would like to convert Cardano (ADA) to Polygon (MATIC). Shrimpy's terminal will analyze the ways in which you could sell ADA and buy MATIC and choose the most efficient one. For example, the exchange may involve selling ADA to USDT and then buying MATIC with that USDT or selling ADA to ETH and buying MATIC with ETH. The different routes are calculated and assessed in real time.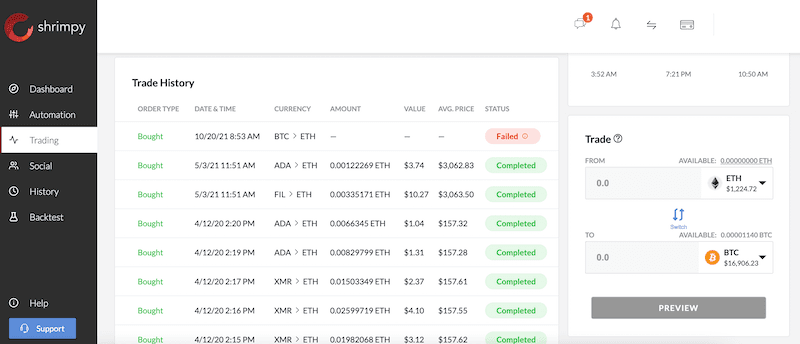 Social trading
Shrimpy allows you to copy a professional's portfolio thanks to its social trading feature. Note that to use this feature, you must agree to pay a "following fee," which the leader sets. The fee for this service may include Assets Under Management (AUM) Fees, which could equal 1% of your portfolio value, and a flat dollar fee. Both of these fees are charged monthly and are independent of your Shrimpy subscription.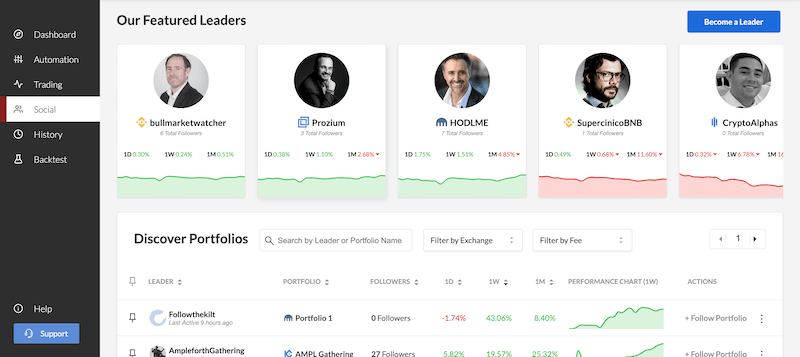 Ease of Use
Shrimpy is very user-friendly and straightforward to use. In addition, each option is accompanied by a tooltip and a link to the knowledge base for in-depth information.
Shrimpy has a vast library of help articles, videos, and even an academy course for newbies to learn about cryptocurrencies and trading.
Pricing
The platform offers three pricing plans which are:
Standard - $19 per month
Plus - $49 per month
The plans differ in the number of exchanges you can connect, the portfolios, automation, and backtests.
I find Shrimpy fairly priced as long as your portfolio value justifies it. If your total portfolio is under $1000, you may want a cheaper or free alternative.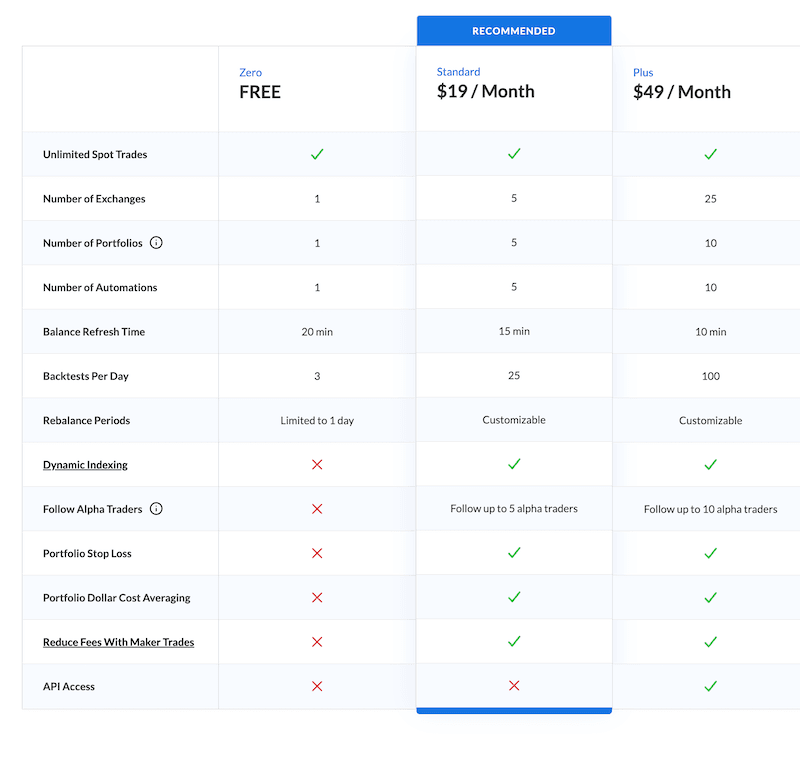 Customer support
The platform has a dedicated support team that can be contacted via live chat, and the email is [email protected]. The platform also has a Twitter page and is available on other social media sites like Facebook.
If the website is to be believed, they claim that sometimes even the Shrimpy CEO personally answers users' queries.
Security
The security aspect of Shrimpy has been considered from day one according to the site's message about their approach to security. The platform uses 2FA and IPA encryption to secure data, protecting every user's integrity and confidentiality.
The platform is backed by HTTPS (SSL) to keep it secure. Finally, it only maintains the capability to facilitate data reading and making trades, but it doesn't allow funds withdrawal. Users are encouraged to use the 2FA option to secure their accounts on the platform.
Who is it for?
Shrimpy is an excellent choice if you:
Are a sophisticated investor looking to maximize returns and reduce risks
Would like to copy the portfolio of professionals
Would like to backtest the return of different portfolios over time
Shrimpy VS Gainium
Conclusion
Shrimpy is a strong contender for serious long-term crypto investors. It has all the features you need for portfolio management, a powerful rebalancing bot, and a portfolio copy trading feature.
Shrimpy is very easy to use, and the monthly fee is fair, considering the features it provides.