Overview
Tradesanta is a cloud crypto trading bot platform that specializes in grid and DCA (martingale) bots for spot and futures markets across top exchanges. Founded in 2018, the platform has grown in popularity and is well-established in the automatic crypto trading world.
Tradesanta sports a simple interface that will allow you to create a bot in no time, even if you are a beginner.
Features
Tradesanta has a few tools that make automatic crypto trading easy and accessible for everyone. Let's review them in more detail.
DCA bots
Tradesanta's DCA (price-DCA) bots follow the Martingale strategy. If you are unfamiliar with this strategy, the bot will buy more of the asset at specific price deviations when the asset moves in the opposite direction to the Take Profit. This way, the position's average entry price gets more favorable, increasing the chances of reaching the take profit level. However, the position size is also increased, thus increasing the risk.
The DCA bots at Tradesanta have the essential features available in most other bot platforms. However, if you want to automate a more complex strategy, you may be limited by the options available.
The trailing take profit and stop loss are welcomed features. If you subscribe to the premium plan, you will have access to Bollinger Bands, MACD, and RSI indicators for the bot start signal, as well as webhooks from TradingView. You will also have access to TradingView webhooks as a bot stop signal.
I wished for the option to set the profit currency and more indicators than the ones available for entry and exit conditions.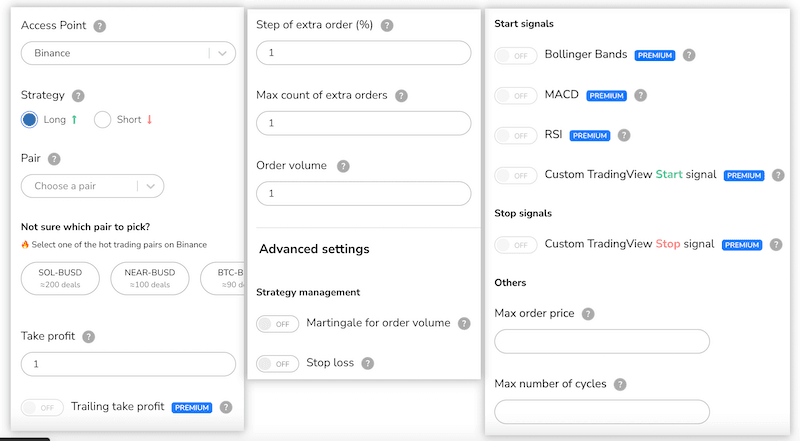 Grid bots
The new grid bot interface looks pretty much the same as the DCA bot, which is mind-boggling, considering these bots have different behaviors. I am unsure if they thought the users would prefer it this way or if the developers were too lazy to develop two bot interfaces. Across all the platforms I have used and reviewed, it is the first time I have encountered something like this.
The main difference from the DCA bot is that instead of selling all the assets at once when the average entry price reaches the take profit level, it sells each DCA order independently at the desired take profit level.
As I try to set up the bot, I quickly run into the limitations of this interface. I can grasp that the take profit is the grid spacing and that the "Max count of extra trades" would be how many grid lines I want in the bot. However, I don't know the price range the bot will trade.
Grid bots are usually set up to trade on specific price ranges. With no visual representation of the grid lines on a price chart, it's hard to configure the grid bot to take advantage of a ranging market.
Overall I am surprised, confused, and slightly disappointed with their approach to grid bots.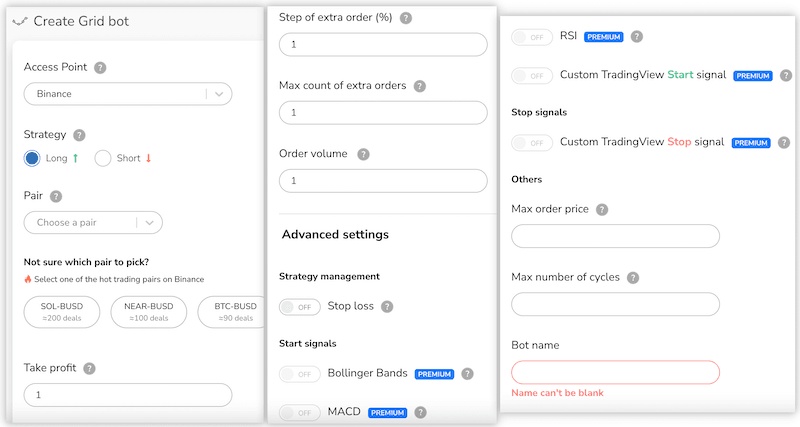 Bot marketplace
Tradesanta's bot marketplace is the place where you can see predefined bot strategies and their historical performance. Despite the name, it is not actually a marketplace, as all the bot templates are free to use.
All bots are displayed in a table format that you can quickly sort and filter by coin pair exchange, profitability, and time running. This is a great place to start if you need some inspiration to get a bot set up and running.
Trading terminal
Tradesanta's terminal offers basic buy and sell functionality to trade across all supported exchanges. As you can see from the screenshot below, there is no functionality to set take profit or stop loss, so this tool might not be a good fit if you are an advanced trader.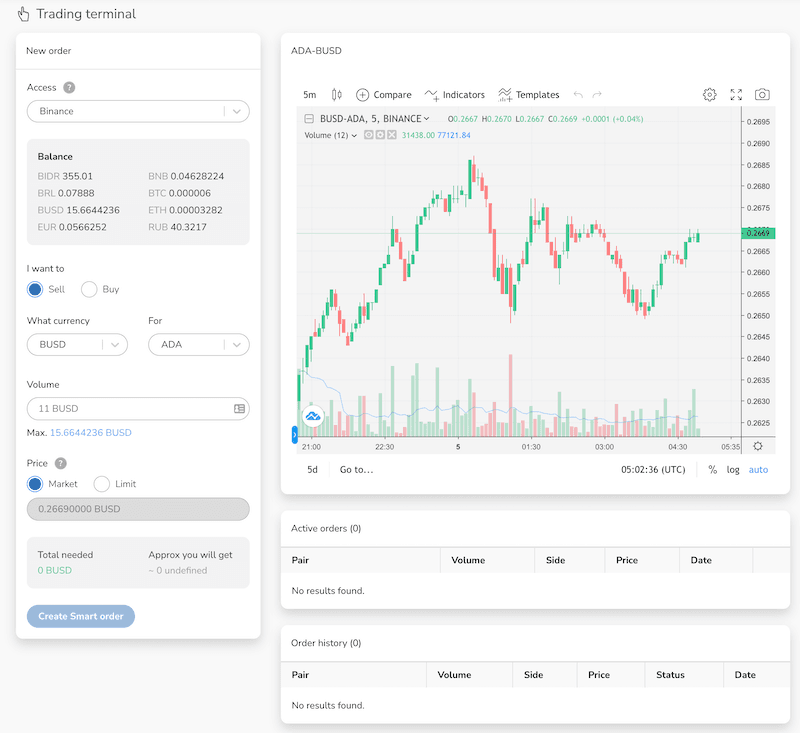 Ease of Use
Tradesanta has a clean and straightforward interface. I did find their grid bot interface confusing since they have their own approach, but the rest of the tools were easy to set up and use.
There is also an extensive help section with plenty of educational material and guides, so you can master the tools in no time.
Pricing
Tradesanta has a fair pricing model. The lowest pricing tier offers a good number of bots for only $25 per month. However, advanced features such as trailing take profit and indicators are only available in the Advanced plan and beyond.
Tradesanta has a fair pricing model. However, considering there are similarly-priced alternatives with more features, I can't say you get the best bang for your buck.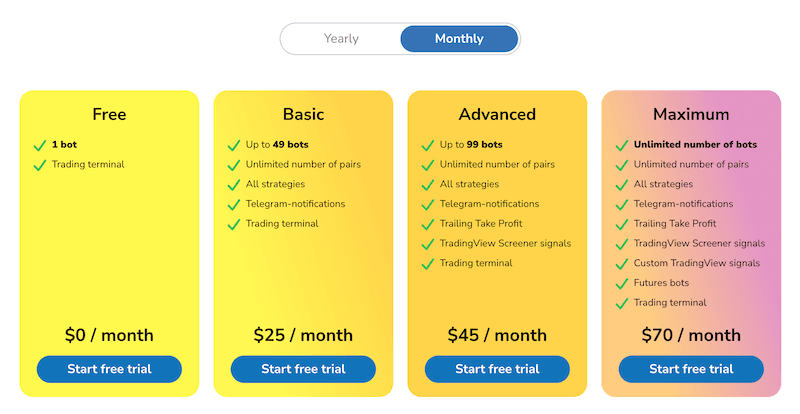 Platforms
Tradesanta can be accessed via the web platform or mobile apps.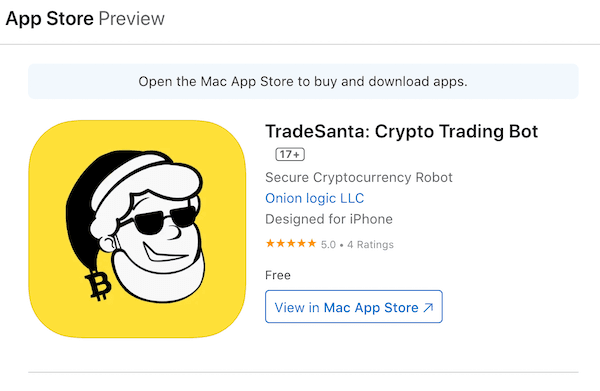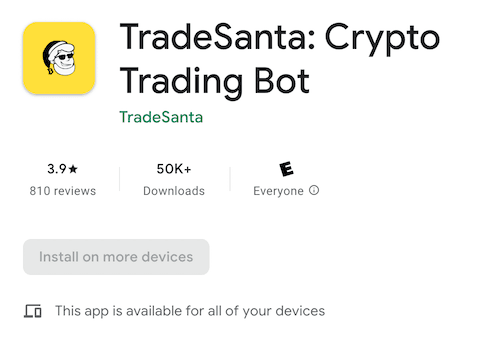 Customer support
Tradesanta offers a variety of channels for users to reach out for help: Facebook, Twitter, Telegram, Discord, Online chat, or Email. Their support is very responsive, and users are generally satisfied with their help.
Security
Tradesanta takes security seriously. They offer 2FA and standard encryption features, so your Tradesanta account is protected from hackers.
The API keys Tradesanta uses to access your exchange do not have withdrawal rights, so your funds cannot be moved without your permission. It's also a good sign that Tradesanta has never experienced a security breach in all its years of service.
While doing a deep dive, I saw complaints by users claiming that Tradesanta is a scam and took money out of their exchange. These users were victims of bad actors impersonating Tradesanta representatives in channels such as Discord and Telegram. Unfortunately, these practices are widespread in the industry so users need to remain vigilant and not fall into the trap.
Who is it for?
Tradesanta can be the solution for you if you:
Are a beginner trader who wants to get started using automation
Understand the benefits and risks of DCA martingale bots
Would like to paper trade DCA bots
TrandeSanta VS Gainium
Conclusion
Tradesanta is a leading bot platform with DCA and grid bots best suited for users who want to automate a relatively simple trading strategy without much fuss.
My complaint is that the grid bot implementation is not so intuitive, and the lack of visual aid makes it difficult to adjust to current market conditions. I also miss more advanced features in the DCA bots and the terminal.
Overall, the pricing is fair and you can trial the platform for 3 days to decide if it's the right fit for you.