Overview
Zignaly is a cryptocurrency trading platform with a trading terminal and copy trading feature, which copies the activity of expert traders and allows you to replicate it in your account.
At Zignaly, you copy expert traders under a profit-sharing model. Instead of a flat monthly fee, you'll pay a percentage of your earnings with no minimum investment required.
Being a cryptocurrency trading platform, Zignaly works through an automated service that performs cryptocurrency trading operations without requiring user intervention, allowing trading 24/7 using external crypto signal providers.
Since the platform's services are cloud-based, users can easily access the bot's features at any time and on any device.
Features
The main difference from other cryptocurrency trading bots is that Zignaly is free and has no premium options. The main features offered by Zignaly are:
Copy Trading
Zignaly's Copy Trading feature allows you to copy the activity of expert traders automatically to your account. Once you set the total balance you want to trade, the platform will replicate the trading activity proportionally to the trader you are copying, so the results will also be proportional (minus the success fee).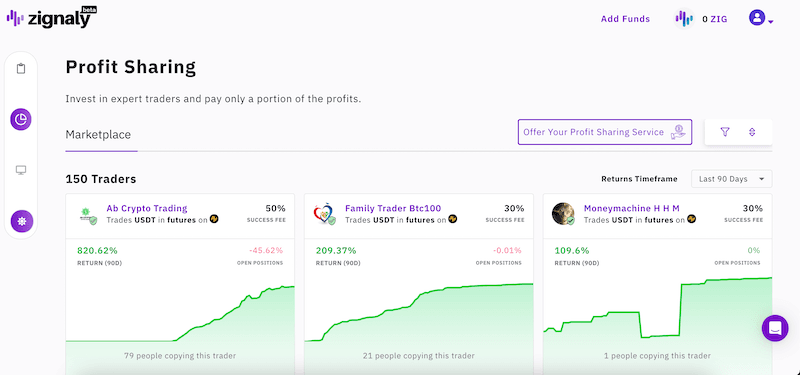 Zignaly also provides advanced stats for each provider, which makes it easier for users to compare different providers and select the one that matches their expected return and risk profile.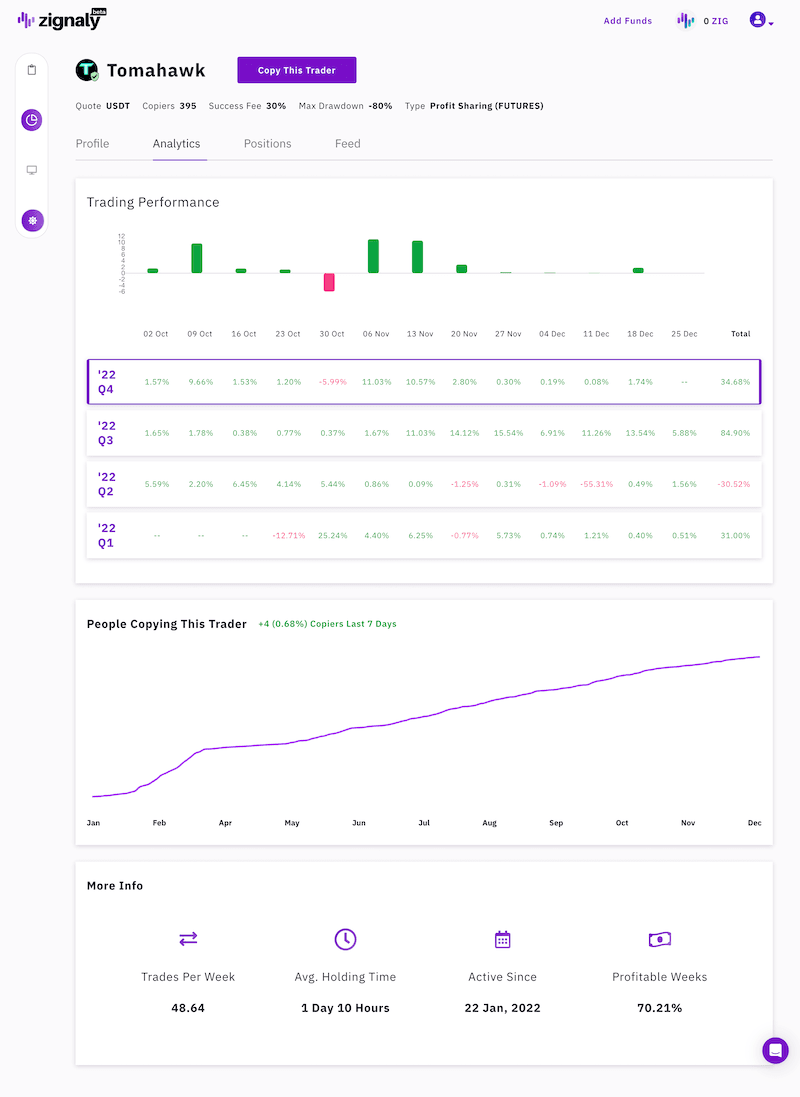 Crypto Trading Terminal
Using Zignaly to establish a complete trading strategy with simultaneous Stop-Loss, Take-Profit, and Trailing Stop orders and Dollar-Cost Average is possible. Using the Zignaly trading terminal, you can set your entire plan with the options you want and without any limitations.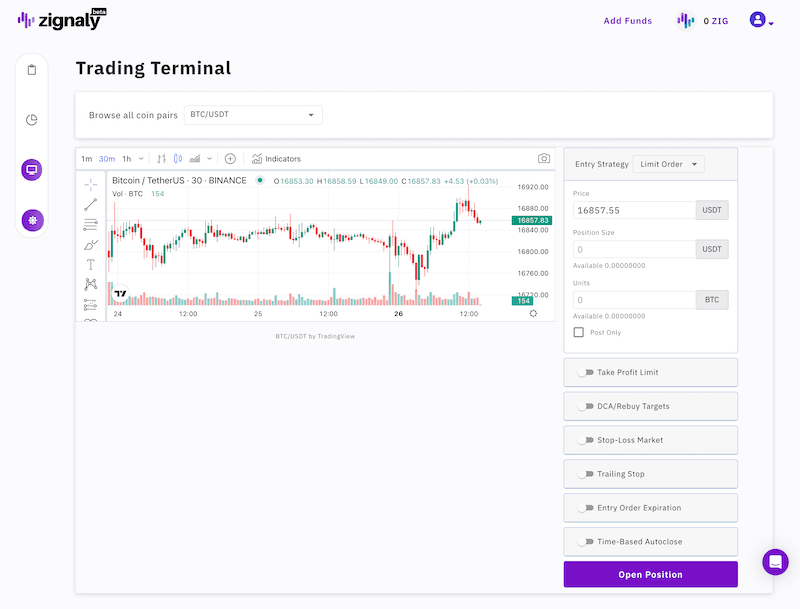 Ease of Use
Zignaly is suitable for all types of traders, though it is especially suited to beginner traders since there aren't many options to configure.
It only takes two steps to set up a Zignaly account and start trading: You need to
Deposit funds in your Zignaly account
Then you choose the desired copy trader from the system according to your preferences which you can easily filter and allocate your funds.
Alternatively, if you are an experienced trader, there may be an opportunity to get involved as a copy trader provider, using your skills to help others generate returns.
Zignaly uses its own exchange, which is managed by Binance.
Pricing
Zignaly has a profit-sharing model in which the trader who provides the copy services, the user who follows him, and the platform share the profits. The company does not charge a monthly subscription. You will only pay a commission when you win, called the "success fee."
The generated profits and losses are automatically calculated when a position is closed. Zignaly charges the success fee only when a completed trade has reached a new maximum profit. This way, the rate will be determined considering the difference between the last maximum and the new one.
Those users who own ZIG token get a discount of 6% or more when paying the success fee. For example, if a trader's success rate is 15%, he will receive 10%, Zignaly 5%, and the user 85% of the profit. You will not have to pay the success fee if there are no profitable trades.
Platforms
Zignaly offers a web platform for its copy trading service; hence it can be accessed from any device. At the moment, there are no mobile apps available.
Customer support
Customer support is best in class and available 24/7. All accounts have access to a dedicated Success Manager. An online contact form can also be used to leave a message for the service team, for which we observed a quick response time. However, it would be nice to see a telephone helpline in the future.
A FAQ section and help forum Zignaly are extensive. The page is organized into main topics such as account (login, minimum balance, how to deposit and withdraw), platform (mobile app, iOS download, discord server, user experience), and tools (entry price deviation, participation in earnings, participation). Zignaly regularly uploads YouTube video content to his channel for account support, ZigCoin, and user tutorials.
Customers can also communicate with the customer support team through blogs and social media channels via Twitter, Telegram, LinkedIn, and Discord.
Security
The platform is a safe and non-custodial investment base. Binance, rather than the company, holds funds deposited on Zignaly Exchange. Binance complies with the internationally recognized ISO/IEC 27001 security protocol with coverage including an insurance fund held in cold wallet storage and SAFU fund protection.
Withdrawals are managed by IP address security. The exchange also implements pattern recognition to detect unusual activities and irregular transactions.
The approach to security at Zignaly is also comprehensive. Two-factor authentication (2FA) can be added to all accounts. Verification will be required to access charges and withdrawals. API keys are encrypted with RSA and stored in a database with no public or proprietary access. ReCaptcha is also implemented to prevent scripting attacks. The company is backed by two venture capital groups, which collectively manage $70 million of capital under management.
In addition, Zignaly conducts KYC on signal providers, ensuring a fair and safe marketplace for its users.
Reliability
The platform's profitability will depend on the provider chosen for copy trading or the quality of the strategy that the user can carry out on their own. However, some users have had problems withdrawing their money or losses on their investment since Zignaly does not allow the withdrawal of funds if it is part of an open position (at least before Profit Sharing 2.0).
This is because when users subscribe to a trader, their funds become part of a Pooled Account. That is, the funds of all the users subscribed to the trader (and the trader himself) have their funds stored in an account used to carry out the strategy said trader provides.
In this situation, if a user subscribed to copy trading has an open position by the trader, they must wait for this position to close to withdraw the money.
Updates
They are currently working on an important update called "Profit Sharing 2.0," in which new changes will be implemented, such as the "Hard Disconnection" option that allows users connected to a copy trader to withdraw their funds even though they form part of an open position without affecting the trader's strategy.
Another type of change expected with the update to "Profit Sharing 2.0" is a redesign of the UI/UX to provide a more pleasant and complete interface for users. In addition, it is planned to improve the functionality of its API to increase the list of compatible exchanges.
Who is it for?
Zignaly is an excellent choice if you:
Want to venture in Cryptocurrency but don't know much about trading
Would like to earn passive income with little oversight
Are comfortable with the risks and benefits of social trading
Zignaly VS Gainium
Conclusion
Zignaly offers an ingenious solution that enables professionals to run automated cryptocurrency trading and profit-sharing tools. The simple software interface allows clients to copy positions opened by other successful traders automatically and pay-per-profit model.
Another critical point is the free trading terminal with extra features, enabling users to trade manually on the Zignaly exchange.
Zignaly is an excellent choice for beginner traders looking to copy the experts while they learn the ropes of trading.