Introduction
Crypto trading bots are popular nowadays, and with good reason. The idea of making profits even while you sleep is very appealing.
However, choosing the right bot platform is not an easy task. With so many choices out there, how do you know the right one for you?
In this review, we will be looking at two popular contenders: Zignaly and 3Commas.
Both platforms have specific strengths and weaknesses, and if you are wondering which one is the better choice for you, then this side-by-side comparison will clear all your doubts.
Let's get started.
Summary
Zignaly Summary
Zignaly is a cryptocurrency trading platform with a trading terminal and copy trading feature, which copies the activity of expert traders and allows you to replicate it in your account.
Headquarters: Saint Vincent and the Grenadines
Year founded: 2018
Website: https://zignaly.com/
PROS
Very easy to use
A vast selection of signal providers
No minimum investment required
CONS
No demo trading
No mobile apps are available
Need to transfer funds to your Zignaly account
3Commas Summary
3Commas is a reputable online automatic trading platform that offers bots and other automatic and manual trading tools.
Headquarters: Tallinn, Estonia
Year founded: 2017
Website: https://3commas.io/
PROS
An impressive suite of tools
Battle-tested since 2017
Good selection of exchanges
Web and mobile apps available
CONS
Some users complaint about customer care
Recent concerns about API security
No integrated backtesting for DCA bots
Short three days trial
Overview
Zignaly Overview
Zignaly is a cryptocurrency trading platform with a trading terminal and copy trading feature, which copies the activity of expert traders and allows you to replicate it in your account.
At Zignaly, you copy expert traders under a profit-sharing model. Instead of a flat monthly fee, you'll pay a percentage of your earnings with no minimum investment required.
Being a cryptocurrency trading platform, Zignaly works through an automated service that performs cryptocurrency trading operations without requiring user intervention, allowing trading 24/7 using external crypto signal providers.
Since the platform's services are cloud-based, users can easily access the bot's features at any time and on any device.
3Commas Overview
If you are looking for a top crypto trading platform that offers excellent reliability and a smooth trading experience, 3commas is a highly recommended choice. It was founded in 2017 to provide crypto traders of all levels with a competitive edge thanks to its complete suite of automated and manual tools.
3Commas offers excellent trading tools with an intuitive layout and plenty of educational materials, making it an ideal choice for beginner and advanced traders.
Features
Zignaly Features
The main difference from other cryptocurrency trading bots is that Zignaly is free and has no premium options. The main features offered by Zignaly are:
Copy Trading
Zignaly's Copy Trading feature allows you to copy the activity of expert traders automatically to your account. Once you set the total balance you want to trade, the platform will replicate the trading activity proportionally to the trader you are copying, so the results will also be proportional (minus the success fee).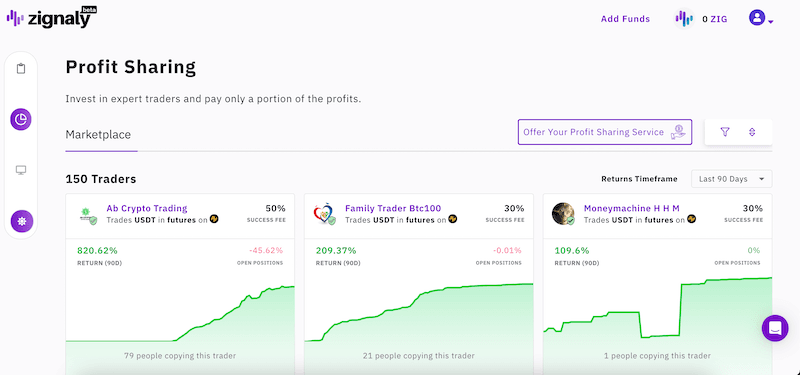 Zignaly also provides advanced stats for each provider, which makes it easier for users to compare different providers and select the one that matches their expected return and risk profile.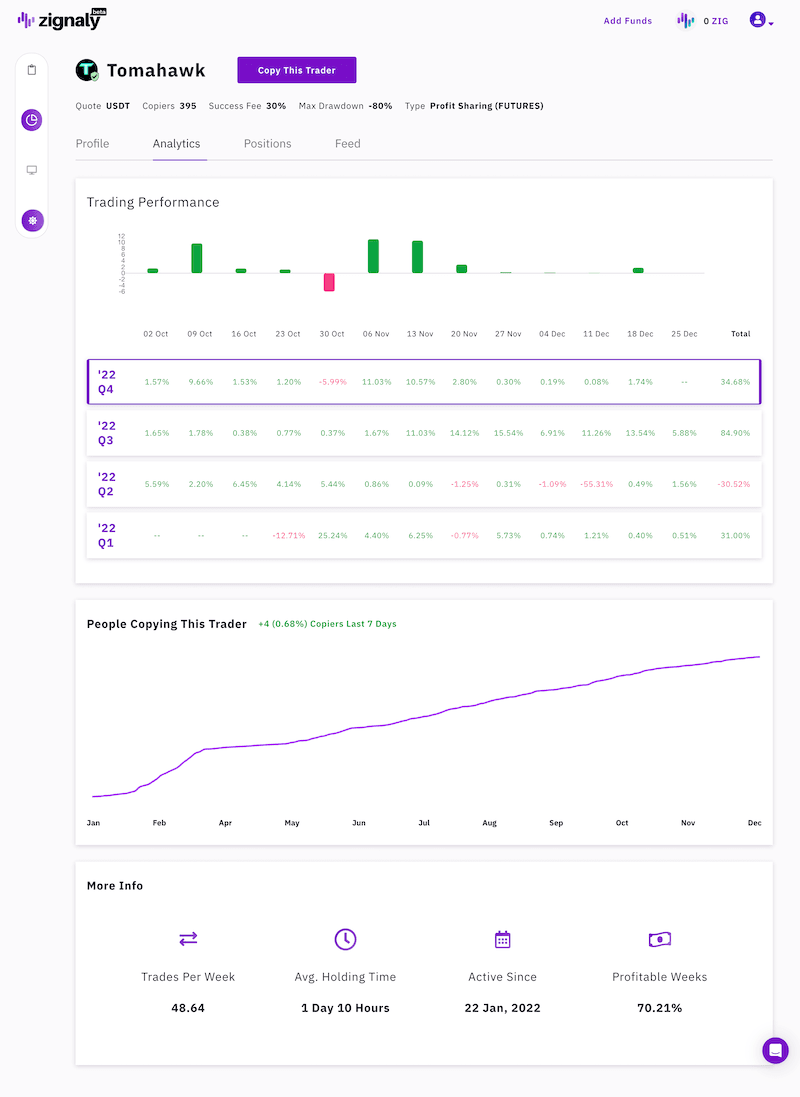 Crypto Trading Terminal
Using Zignaly to establish a complete trading strategy with simultaneous Stop-Loss, Take-Profit, and Trailing Stop orders and Dollar-Cost Average is possible. Using the Zignaly trading terminal, you can set your entire plan with the options you want and without any limitations.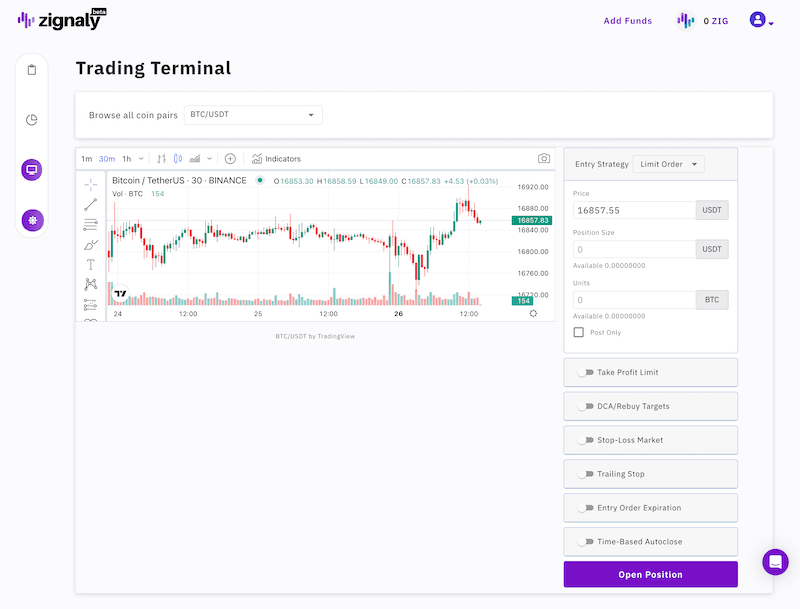 3Commas Features
3Commas offers tools for manual and automated trading. Let's go over the most prominent ones:
Paper Trading
Paper trading is an essential feature not enough bot platforms offer. Paper trading uses fake funds to test bot strategies or manual trades in real time.
Paper trading is a must-have feature, especially for beginners learning the ropes of automatic and manual trading. Demo accounts are not utilized as much as they should be, and it's a mistake that can cost dearly to novice traders. It is a well-known fact that 90% of traders lose money, and the best way to be on the good side of that statistic is by practicing with paper trade.
You can activate your 3Comma's paper trading mode at the top bar of the page where it says, 'paper trading balance" by clicking activate. If it is not there, you will find it in the account settings, where you can toggle the "show paper trading" on the right of the screen to green and then activate the "Paper trading balance."
3Commas' paper trading is robust. I have personally used it for many months without a hiccup. My only complaint is that you are given only one paper trading account on one "exchange," and it is unclear which particular exchange is emulating. I find it more instructive to mimic certain exchanges and have several paper trading accounts on each, enabling users to replicate their live accounts on paper trading. Nevertheless, 3Commas paper trading covers all the basics, and it's an excellent tool for practicing strategies without risking your hard-earned money.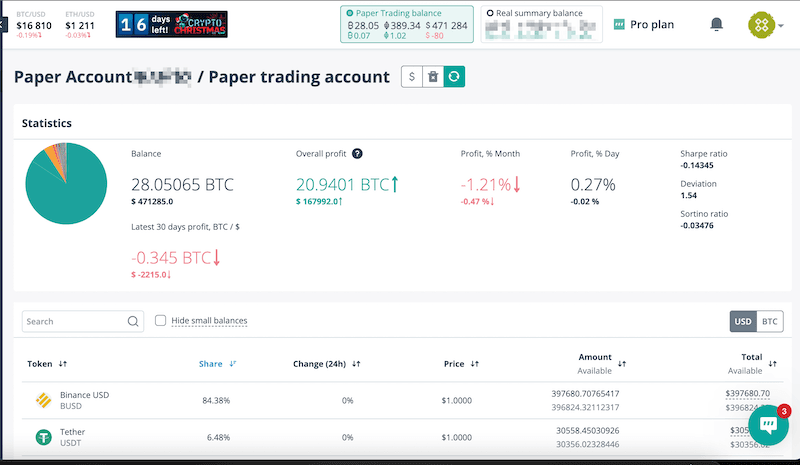 Smart trading
The Smart Trading feature of 3Commas allows you to execute trades manually across all supported exchanges. The advantages of the smart trade over the native interface are twofold: 1. you don't need to learn and get used to each exchange interface, and 2. you have advanced options that exchanges don't usually provide, such as trailing take profit and stop loss, among others.
One neat feature of smart trading is the ability to split take profit targets, something you don't usually find on the exchange itself.
I found 3Commas's Smart Trading feature quite helpful and one of the most complete solutions for manual trading.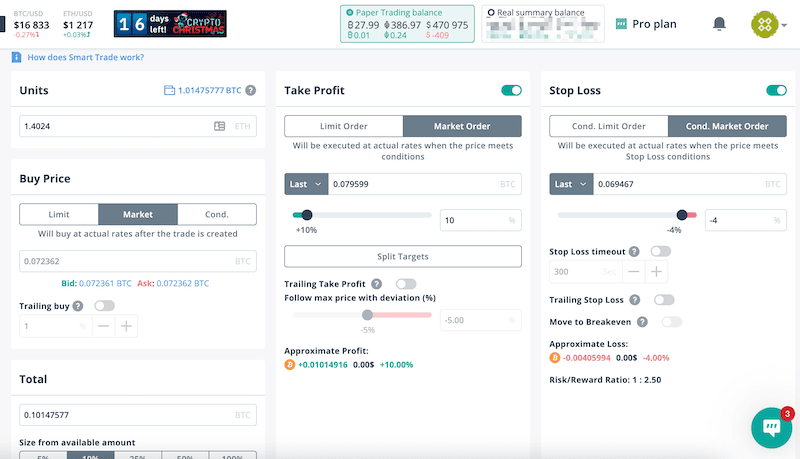 Grid Bot
3Comma's grid bot comes with standard features and a few extra perks. I really like that
You can fix your grid orders in quote or base and profit in quote or base. Though it is impossible to set the order in base and profit in base, all other combinations are available.
In addition, you can activate the trailing up feature, where the grid bot moves upward with the market creating new grid lines (available when you fix your orders in quote and profit in quote).
Another nice feature is the ability to choose an action when the bot reaches the upper or the lower bound of the grid, allowing you to stop the bot only or stop the bot and buy/sell base.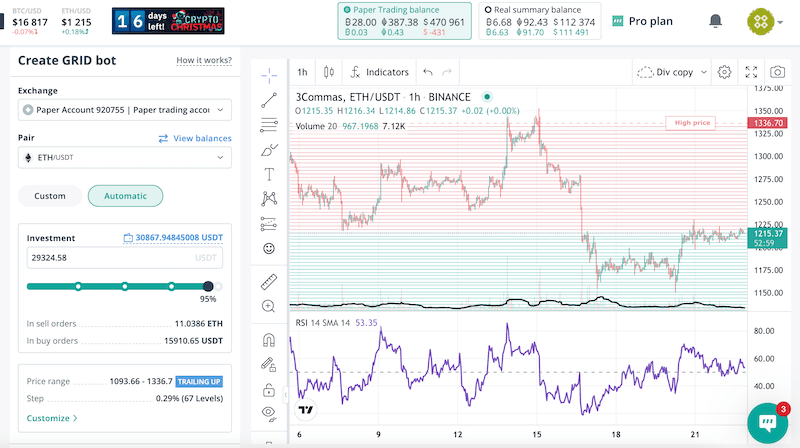 On the downside, I must mention that I am missing a stop loss and taking profit features. You could argue that the upper stop bot and lower stop bot features could act as take profit and stop loss, respectively. However, they only work when a specific price is reached. You cannot set the stop loss or take profit based on ROI achieved, as you can do in other bot platforms.
I am also a bit disappointed that the upper and lower stop bot only work when you fix your order in base and profit in quote or vice versa. And the trailing up feature is only available when you fix the orders in quote and profit in quote. It is not entirely clear why some options are only available on specific combinations of grid order setting and profit currency.
DCA Bot
The dollar cost averaging (DCA) bots are 3Commas' most popular feature. DCA bots enable you to buy an asset at preset price drop percentages, lowering the average acquisition price of the asset. DCA bots are a great tool to reduce the asset's volatility risk and the entry price over time, which increases the chances of achieving your profit target when the price moves against you.
3Commas' version of DCA bots, specifically price-DCA bots, follow the Martingale strategy. Price-DCA should not be confused with time-DCA (HODL bots, explained in the next section). Price-DCA can be a great strategy under the right market conditions, but it is inherently risky and can quickly turn into losses if not managed properly.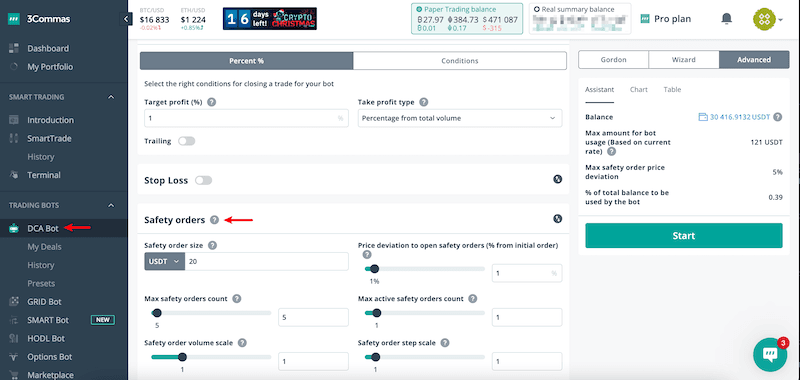 Being 3Commas' most prominent and popular feature, it surprises me that they have not yet released an easy way to backtest their DCA bots. If you created your bot and want to see the results on historical data (and you should, always), then you have no choice but to try your luck with TradingView emulators or other third-party solutions. Alternatively, you can backtest a DCA bot on our platform for free. Even if you are a 3Commas user, you can replicate the bot settings in our platform just for the sake of backtesting it first; we do not charge and will never charge for backtesting.
HODL bot
The HODL bot implements the time-DCA strategy, in which you buy the same dollar amount of an asset periodically, independently of its current price. The HODL bot helps you to trade with much more flexibility by taking funds from your account and investing in your chosen asset, lowering the risk of significant price volatility. The good news is that the HODL bot is a set-and-forget bot, meaning you only need to ensure that you top up the stable coin balance used to fund the bot.
For example, you can set the HODL bot to buy $100 worth of your favorite cryptocurrency weekly. The bot invests the amount specified into the preferred crypto every week on the day and time of your choosing and will continue until you stop the bot.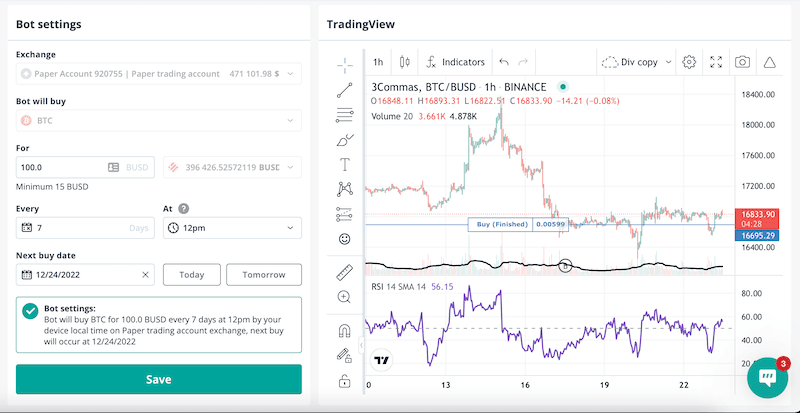 Smart Bot
The smart bot is the newest addition to the 3Commas bot family. They are based on a combination of QFL 'Quick Fingers Luc' strategy and machine learning, which tries to anticipate and capitalize on price bounces.
Based on my limited experience (2 weeks running) and users' experience in the 3Commas Discord, I can say that these bots aren't the magic solution we have been waiting for. I am yet to see anyone raving about their returns. In fact, I don't think I have heard of anyone being profitable using one of these.
If you decide to give them a shot, test them on your paper trading account for a few weeks. It's still early days for the Smart Bots; perhaps they need more data to live up to their name.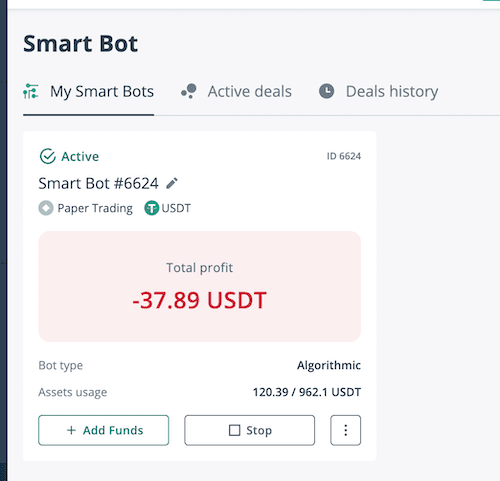 Options Bot
Finally, the option and futures bots are one of the derivative trading instruments in the 3Commas platform. They are simple and convenient bots that allow you to profit from the asset's volatility and reduce your trading risk. The option bot gives one party, either buyer or seller, the option to buy or sell an asset at a predetermined price before or at expiration. Of course, all this is subject to payment of premiums.
Ease of Use
Zignaly Ease of Use
Zignaly is suitable for all types of traders, though it is especially suited to beginner traders since there aren't many options to configure.
It only takes two steps to set up a Zignaly account and start trading: You need to
Deposit funds in your Zignaly account
Then you choose the desired copy trader from the system according to your preferences which you can easily filter and allocate your funds.
Alternatively, if you are an experienced trader, there may be an opportunity to get involved as a copy trader provider, using your skills to help others generate returns.
3Commas Ease of Use
3Commas is beginner-friendly, allowing new traders to use it with ease. The ease of use applies to mobile and desktop apps.
The onboarding process can be overwhelming to beginners because several parameters need to be set. If this is your first time setting up these bots, you may not be familiar with the different setting options.
The good news is that the platform has a 3Commas trading school and an active learning community that helps beginners learn how to become successful traders. You learn about cryptocurrencies, technical analysis, and bot trading, and you will have access to practical tools and courses.
Having said that, I find that sometimes 3Commas can better explain the different options with more tooltips and in-depth documentation.
Zignaly uses its own exchange, which is managed by Binance.
3Commas Supported Exchanges
3Commas support all major exchanges. It is worth mentioning that 3Commas offers special promotions when signing up for certain exchanges, including Binance, OKK, Bittrex, Bitstamp, KuCoin, Huobi Global, Crypto.com, Gemini, Deribit, and ByBit, among others. But this depends on the agreement between the two platforms, so you must look closely at the exchange agreements.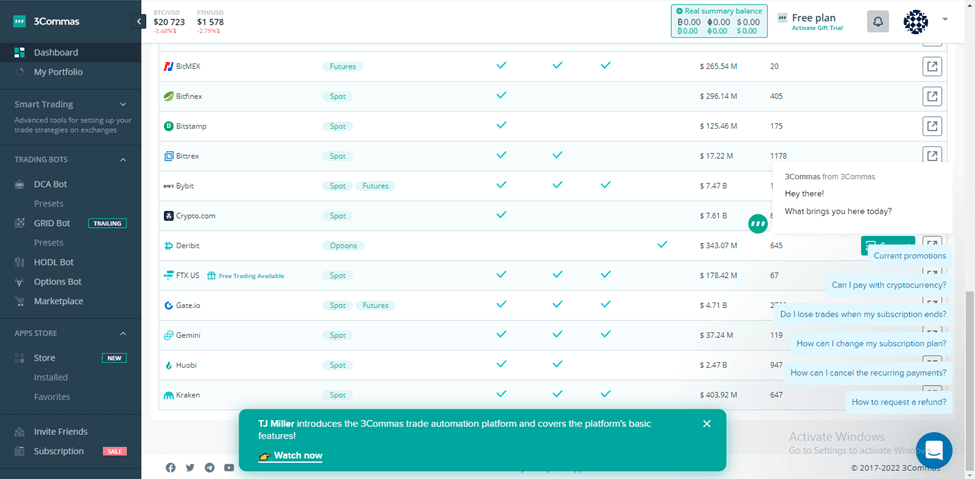 Pricing
Zignaly Pricing
Zignaly has a profit-sharing model in which the trader who provides the copy services, the user who follows him, and the platform share the profits. The company does not charge a monthly subscription. You will only pay a commission when you win, called the "success fee."
The generated profits and losses are automatically calculated when a position is closed. Zignaly charges the success fee only when a completed trade has reached a new maximum profit. This way, the rate will be determined considering the difference between the last maximum and the new one.
Those users who own ZIG token get a discount of 6% or more when paying the success fee. For example, if a trader's success rate is 15%, he will receive 10%, Zignaly 5%, and the user 85% of the profit. You will not have to pay the success fee if there are no profitable trades.
3Commas Pricing
3Commas has four pricing plans to choose from, which have no hidden charges. The plans are free, starter, advanced and professional. The charges are straightforward:
Free plan: It costs $0
Starter plan: It costs $29 monthly, but users get a 50% discount if they pay for the plan annually ($14.50 per month)
Advanced plan: It costs $49 monthly, but users get a 50% discount if they pay for the plan annually ($24.50 per month)
Professional plan: It costs $99 monthly, but users get a 50% discount if they pay for the plan annually ($49.50 per month)
The free basic plan has the following:
Only one DCA (single or multi-pair), grid, and option bot
One active smart trade
Trader's diary
API Access
The rest of the plans vary on the number of active bots and smart trades you can have.
I find 3Commas plans fair priced, as the platform is packed with features. Be sure to look for discounts, which they often release, especially during holidays.
Supported Platforms
Zignaly Supported Platforms
Zignaly offers a web platform for its copy trading service; hence it can be accessed from any device. At the moment, there are no mobile apps available.
3Commas Supported Platforms
3Commas can be accessed from anywhere through its web platform, as well as through its android and iPhone mobile apps.
The mobile apps are very well designed and come with all the web version features. As you can see by their ratings, users have nothing but good things to say about them.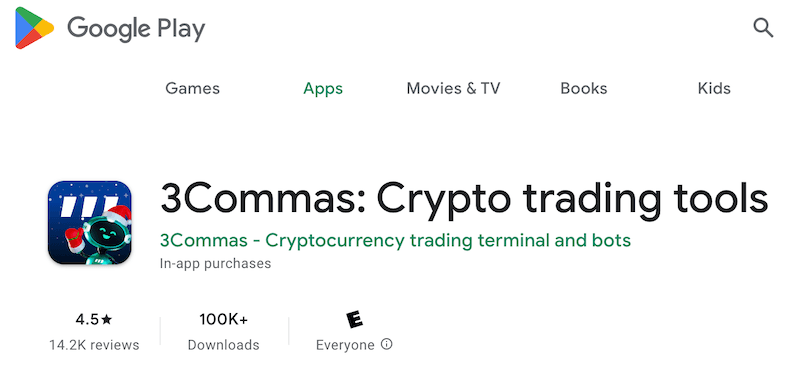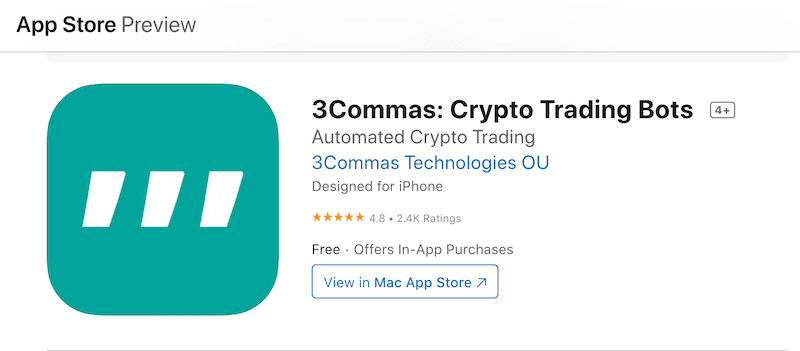 Customer support
Zignaly Customer support
Customer support is best in class and available 24/7. All accounts have access to a dedicated Success Manager. An online contact form can also be used to leave a message for the service team, for which we observed a quick response time. However, it would be nice to see a telephone helpline in the future.
A FAQ section and help forum Zignaly are extensive. The page is organized into main topics such as account (login, minimum balance, how to deposit and withdraw), platform (mobile app, iOS download, discord server, user experience), and tools (entry price deviation, participation in earnings, participation). Zignaly regularly uploads YouTube video content to his channel for account support, ZigCoin, and user tutorials.
Customers can also communicate with the customer support team through blogs and social media channels via Twitter, Telegram, LinkedIn, and Discord.
3Commas Customer support
The 3Commas customer service is willing to help traders with questions about the platform and trading. They can be contacted via customer support email, [email protected], and payment email, [email protected].
You can also use the website's contact page, https://3commas.io/about/contacts, and also get to the social media platforms like Twitter, @3commas_io, and Reddit, r/3commasCommunity.
There is also a Discord learning community where traders can discuss and share ideas. However, some Discord users have complained about 3Commas' lack of support on their Discord.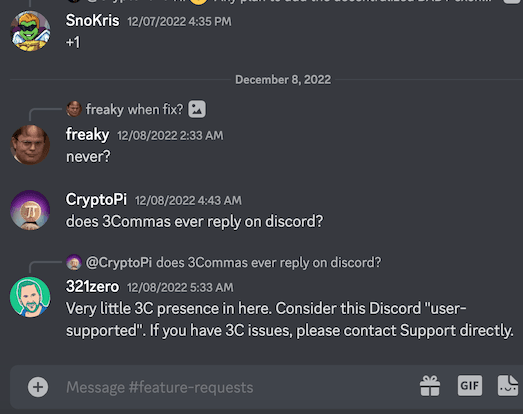 3Commas also uses live chat for communication between users and support team members.
I have used 3Commas' support a handful of times and find them fast and responsive. On a couple of occasions they did not address my queries adequately, but they were able to raise my support ticket to someone more qualified who answered all my questions.
Security
Zignaly Security
The platform is a safe and non-custodial investment base. Binance, rather than the company, holds funds deposited on Zignaly Exchange. Binance complies with the internationally recognized ISO/IEC 27001 security protocol with coverage including an insurance fund held in cold wallet storage and SAFU fund protection.
Withdrawals are managed by IP address security. The exchange also implements pattern recognition to detect unusual activities and irregular transactions.
The approach to security at Zignaly is also comprehensive. Two-factor authentication (2FA) can be added to all accounts. Verification will be required to access charges and withdrawals. API keys are encrypted with RSA and stored in a database with no public or proprietary access. ReCaptcha is also implemented to prevent scripting attacks. The company is backed by two venture capital groups, which collectively manage $70 million of capital under management.
In addition, Zignaly conducts KYC on signal providers, ensuring a fair and safe marketplace for its users.
3Commas Security
3Commas connects to your exchanges using encrypted API. The 3Commas system communicates with the trader's exchange to start and close deals, but there is no access to withdrawals or transfers of crypto and fiat currencies.
3Commas uses Cloudflare as a security service provider. CloudFlare provides a web application firewall, SSL/TLS encryption between servers and visitors, and DDOS attack protection.
Traders are also advised to secure their exchange account and 3Commas account with two-factor authentication (2FA) and use a unique and strong password. Keep the 2FA backup keys safe, and do not store the API keys in an accessible document.
Report of 3Commas API leaks
3Commas has recently been at the epicenter of a heated discussion. A group of 3Commas users claims that $22 million have been hacked through unauthorized use of their exchange API, allegedly leaked by 3Commas.
3Commas have reiterated that their security is air-tight and their system has not been compromised, blaming them on phishing attacks performed by hackers trying to pass as 3Commas website.
While the investigation is still ongoing, you can take steps to increase the security of your API keys through IP and coin pair whitelisting. The sad news is that 3Commas still does not support IP whitelisting, which exposes its users to potential attacks.
Reliability
Zignaly Reliability
The platform's profitability will depend on the provider chosen for copy trading or the quality of the strategy that the user can carry out on their own. However, some users have had problems withdrawing their money or losses on their investment since Zignaly does not allow the withdrawal of funds if it is part of an open position (at least before Profit Sharing 2.0).
This is because when users subscribe to a trader, their funds become part of a Pooled Account. That is, the funds of all the users subscribed to the trader (and the trader himself) have their funds stored in an account used to carry out the strategy said trader provides.
In this situation, if a user subscribed to copy trading has an open position by the trader, they must wait for this position to close to withdraw the money.
3Commas Reliability
3Commas was founded in 2017, making it one of the oldest trading platforms available. Hundreds of thousands of users have used the platform, so in terms of reliability, 3Commas is one of the top choices.
There are reports of users who claim that 3Commas is not reliable during peak trading volume. However, those reports mostly happened years ago, and it seems that 3Commas has since taken steps to prevent the issues from happening again.
Updates
Zignaly Updates
They are currently working on an important update called "Profit Sharing 2.0," in which new changes will be implemented, such as the "Hard Disconnection" option that allows users connected to a copy trader to withdraw their funds even though they form part of an open position without affecting the trader's strategy.
Another type of change expected with the update to "Profit Sharing 2.0" is a redesign of the UI/UX to provide a more pleasant and complete interface for users. In addition, it is planned to improve the functionality of its API to increase the list of compatible exchanges.
3Commas Updates
The platform has regular updates to make it more feature-rich and easy to use for users. In recent months, the platform introduced a host of new features to the grid bots as well as improvements to smart trading.
The team at 3Commas is doing a great job of keeping the platform updated.
Who are they for?
Zignaly, who is it for?
Zignaly is an excellent choice if you:
Want to venture in Cryptocurrency but don't know much about trading
Would like to earn passive income with little oversight
Are comfortable with the risks and benefits of social trading
3Commas, who is it for?
3Commas is a great choice if you:
Are an active trader
Would like to automate all or part of your trading strategy
Are comfortable with the risks of DCA bots
Zignaly VS 3Commas VS Gainium
Zignaly VS 3Commas Conclusion
So we finally get to the good part, which one should you choose?
The answer comes down to your goal and which kind of trader you want to be.
If you want to become a successful trader and learn the ins and outs of crypto trading, then Zignally is a non-starter. Zignally allows you to copy successful traders, but you will not learn about their processes and trading strategies.
However, if you are looking for a hands-off approach to crypto trading, both Zignally and 3Commas have something to offer.
Zignally is entirely hands-off. Meaning all you have to do is copy a successful trader. There is no further configuration to be done; the copy trader has already done the work to determine the proper position size and risk parameters for the strategy.
On the other hand, 3Commas has a marketplace for signals, but you still need to connect these signals to a bot. While signal providers may provide a bot template to use with their signal, it's still up to you to follow it. You may also tweak it to your liking, giving you more flexibility (and responsibility) over the trading strategy.