Introduction
As the bear market rides on, traders are looking at promising projects to place their investments. This article outlines the key reasons why traders should seriously consider adding GameFi tokens to their portfolios and the top 3 GameFi tokens with the most growth potential for the coming months.
GameFi is one of the biggest drivers of the crypto industry. The sector is steadily growing despite the bear market (Cointelegraph, 2022). The Play-to-Earn economy has been the most resilient during the bear market. During the first major crash in the first half of the year, when many other cryptocurrencies had massive slumps, the unique active wallets in May 2022 were just 5% lower than in April 2022 (Altcoin Buzz, 2022).
Furthermore, users not involved in crypto will most likely interact with a blockchain game without even noticing being connected to a blockchain wallet. Do not forget that during peak times in March, 52% of all crypto wallets were directly linked to GameFi (DappRadar, 2022).
Now that we know the importance of the GameFi sector, it's time to present the 3 top projects with the most growth potential we have selected for you. These projects have been selected based on factors such as the size of the community on Twitter, investment rounds by large Venture Capital, upcoming events, and team experience.
1. Vulcan Forged
The first choice belongs to Vulcan Forged (PYR). There have recently been many gameplay updates and reinforcement of the team itself, with gaming experts joining Vulcan Forged.
A new round of $8M funding by Skybridge has helped the NFT game studio expand its operations. The new financing will develop Metascapes, a game that lets users create and manage virtual properties and land in the metaverse. It will also help expand the company's operations in North America. Currently, the studio has 15 games and decentralized applications, with approximately 200,000 users (Mobidictum, 2022).

As far as the Vulcan Forged team is concerned, they have reinforced their workforce with high-level talents from EA Sports, Blizzard & Riot Games (eGamers, 2022). Together, they will fill in some essential tasks from the roadmap checklist, with the end goal of entirely restructuring and ultimately developing Vulcan Forged.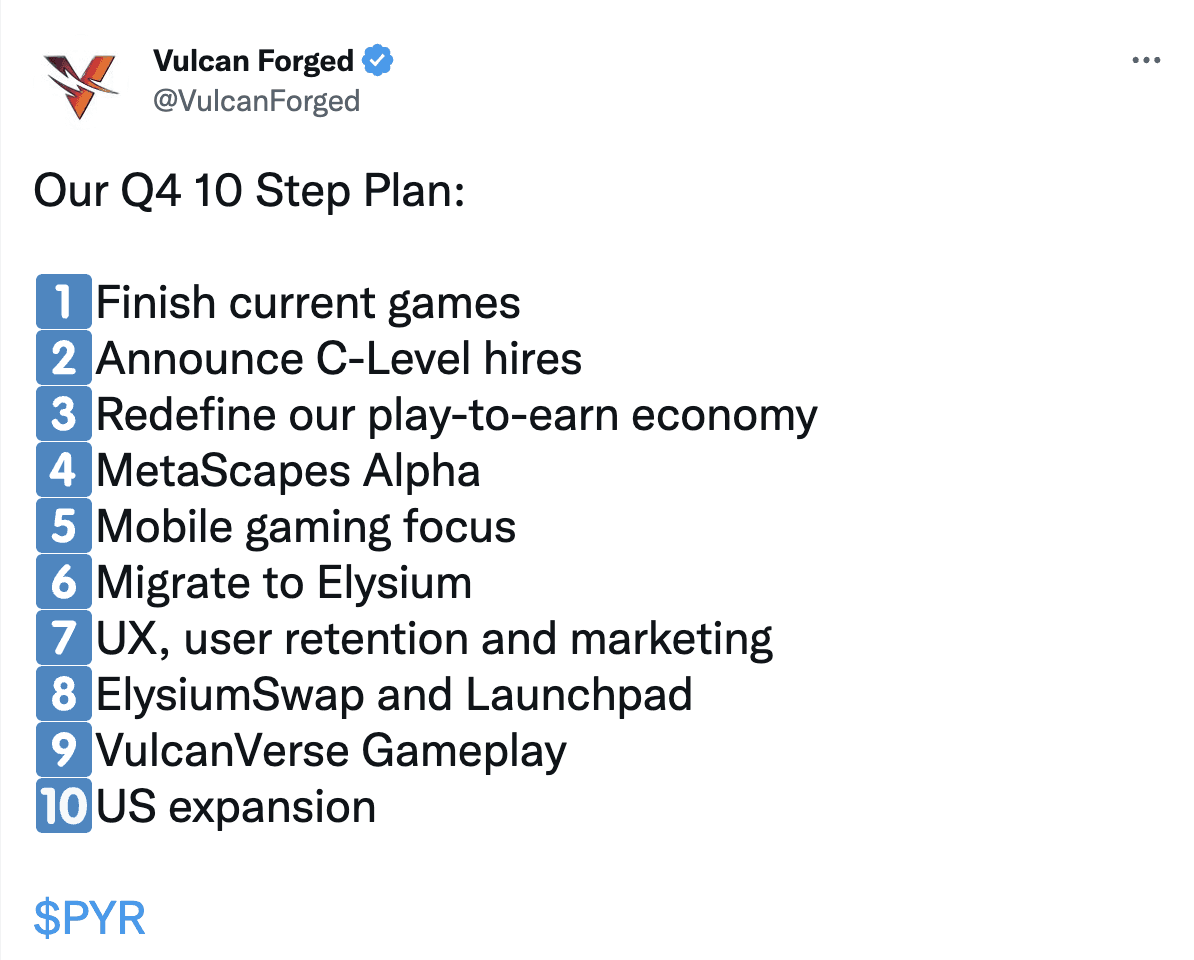 The announcement by the CEO of Vulcan Forged, Jamie Thomson: "Above all, in this bear market, we've probably been 10x more active than we were even in the bull, so while you were patient there, be patient now as we refocus and restructure to adjust to the vast scope Vulcan Forged now is: a game studio, an L1, an economy, a launchpad and soon a metaverse maker (eGamers, 2022).
All announcements and development plans of the Vulcan Forged ecosystem have also been added to the valuable crypto calendar known as CoinMarketCal. Not every blockchain game manages to receive this recognition, and with the listing of Vulcan updates on their page, more investors will have access to see the plans for Vulcan Forged in Q4 of 2022 and onwards.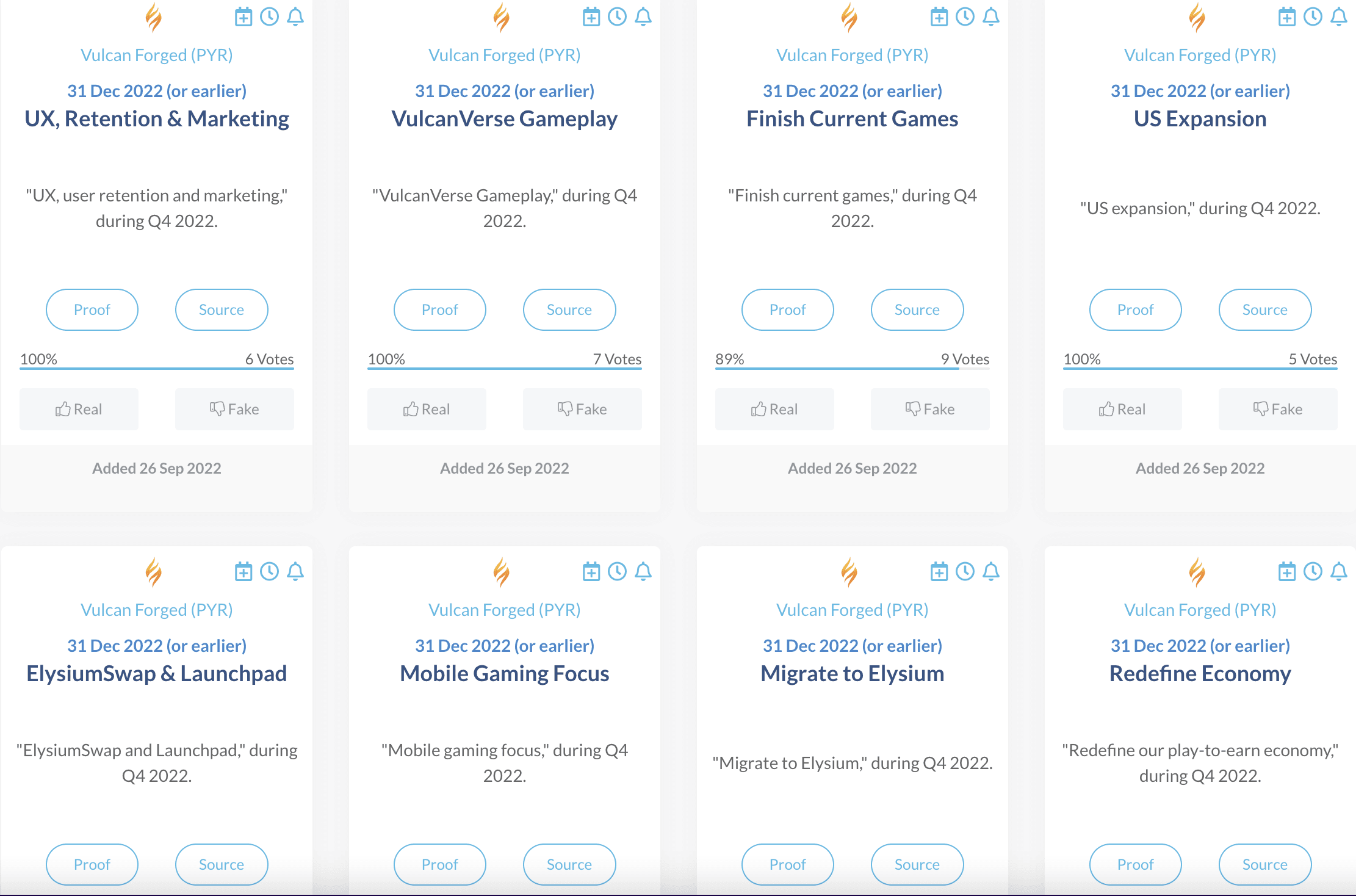 Conclusion
The positive trend by Vulcan Forged is caused by the project's fundamentals and not just a pump-and-dump economy. As reported by Messari analytics (Messari, 2022), Vulcan Forged has also proved to have bullish metrics, with positive ROI on a 1-month and 3-month timeframe against the USD and BTC.


And with PYR still sitting an %79.32 away from the 2022 ATH, it is imminent for this coin to continue its strong growth in the next bull cycle. Fundamentals will outpace the valuation; that is where the magic should start in crypto gaming.
2. Gala Games
Gala Games is our second take. Although it has been following a bearish pattern for some time, many recent updates and partnerships have been happening. This could end the bearish scenario and reverse the price action of the token.
There is countless big news in favor of the Gala Games ecosystem, so in this report, we are going to mention the most recent announcements which are relevant for the Gala ecosystem and also for the Play to Earn industry as a whole.
News 1: Gala Games and Upland Collaborate, Connecting Their Metaverses Via NFT Portal
The latest partnership with Upland will help their metaverse expand. This will be done by bridging the two blockchains and creating portals where Gala and Upland communities can jump from one world to other thanks to its interoperability features. This will allow users to share exclusive events, competitions, and collectibles (Daily Coin, 2022).
News 2: Gala Games Partners With Universal Games to Drop 3D Animated "Trolls" Collectibles
Here is another partnership, this time with Universal Games. The purpose is to bring the blockbuster "Trolls" IP into VOXverse (eGamers, 2022).
News 3: Gala Film
Gala Film was introduced in August. Since Gala's decentralized ecosystem is built on nodes, anyone can access and purchase them, as each node has a proper license attached. (eGamers, 2022). Once connected, contributors can create and host their premium content on the Gala Film platform. The longer a node is up and running, the more rewards you earn.
The statements of the previously written announcements are just a few examples proving Gala Games has much to offer.
Another game by Gala Games, Superior, got approved not only on Epic Games Store but it will also on Steam, the most prominent digital gaming distributor (Capital.com, 2022).
Looking back, a year ago, Steam said no to NFT games, so there may be welcoming more types of web2 games and migrating to a web3 version. Steam is already trying it with Superior, and if soon more games join the same way as Superior did, it will clearly show mass adoption (Crypto Banter, 2022).
The only potential downside would be tokenomics, the market cap, and the fully diluted market, especially in a bear market like we are in right now (Crypto Banter, 2022). Therefore, it might not justify as the best hold right now, but in the long run, when the crypto gaming narrative does come back again, it will be one of the most bought-in industries after each market crash.
Therefore, it is not the top choice for investors or traders who are willing to make quick gains right now but more of a longer-term play. One of the charts clearly shows whether the asset is worth the risk or not (Sharpe Ratio). With a currently negative score of -6,42, it is not the primary investor's choice.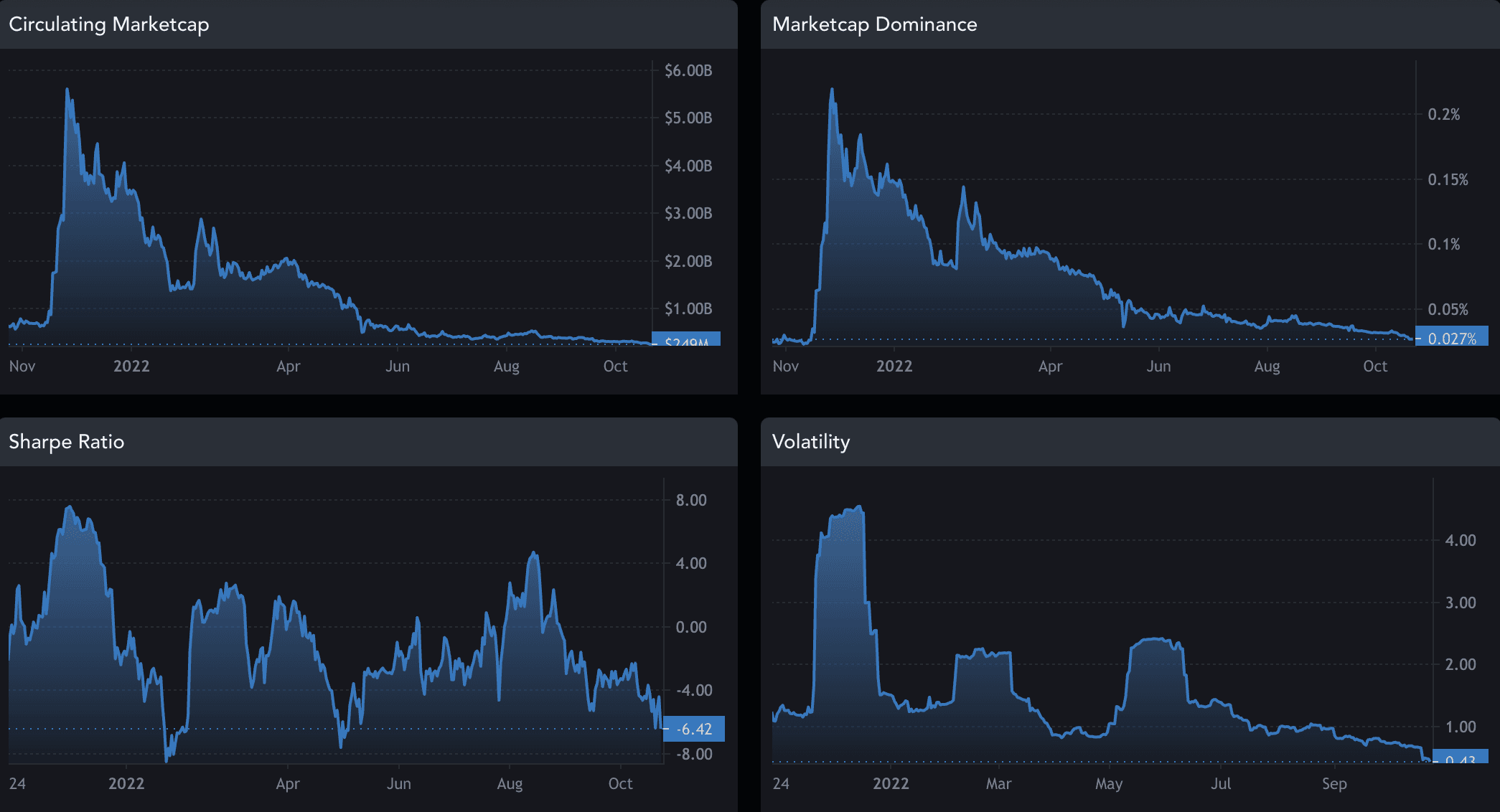 Conclusion
Despite the bearish situation, Gala Games will pick up the positive trend sometime soon, especially since they have been building on Gala's ecosystem. The team has frequently introduced new features outside the gaming space and common NFT giveaways to keep the community more involved with Gala Games. It is undoubtedly one of the most active crypto gaming accounts on Twitter, with almost 400k followers (Twitter Gala Games, 2022).
If Gala Games keeps working hard at this pace, they will surely bring more big brands into the space. Hence, a strong resurgence of its token value should not be underestimated, as it usually happens when least expected.
A new star has recently been shining in the Play to Earn space with Gameta. The project represents itself as a GameFi platform with the core aim to help billions of web2 game users migrate to web3.
Gameta does that efficiently by offering multiple product models on its platforms, such as the smooth migration web3 process with an automatic on-chain address creation, the ability to build a web3 network map where users can send messages to each other, and the possibility to create a DAO and participate in governance (Gameta, 2022).
There are quite a few reasons why GameFi enthusiasts should have a look at Gameta. Since the game's launch at the end of August, Gameta has experienced massive success in terms of the Unique Active Wallets interacting on-chain (Play to Earn, 2022). Just three days after its release, it amassed over 46,000 users. By September 4, it reached a whopping 523k active players.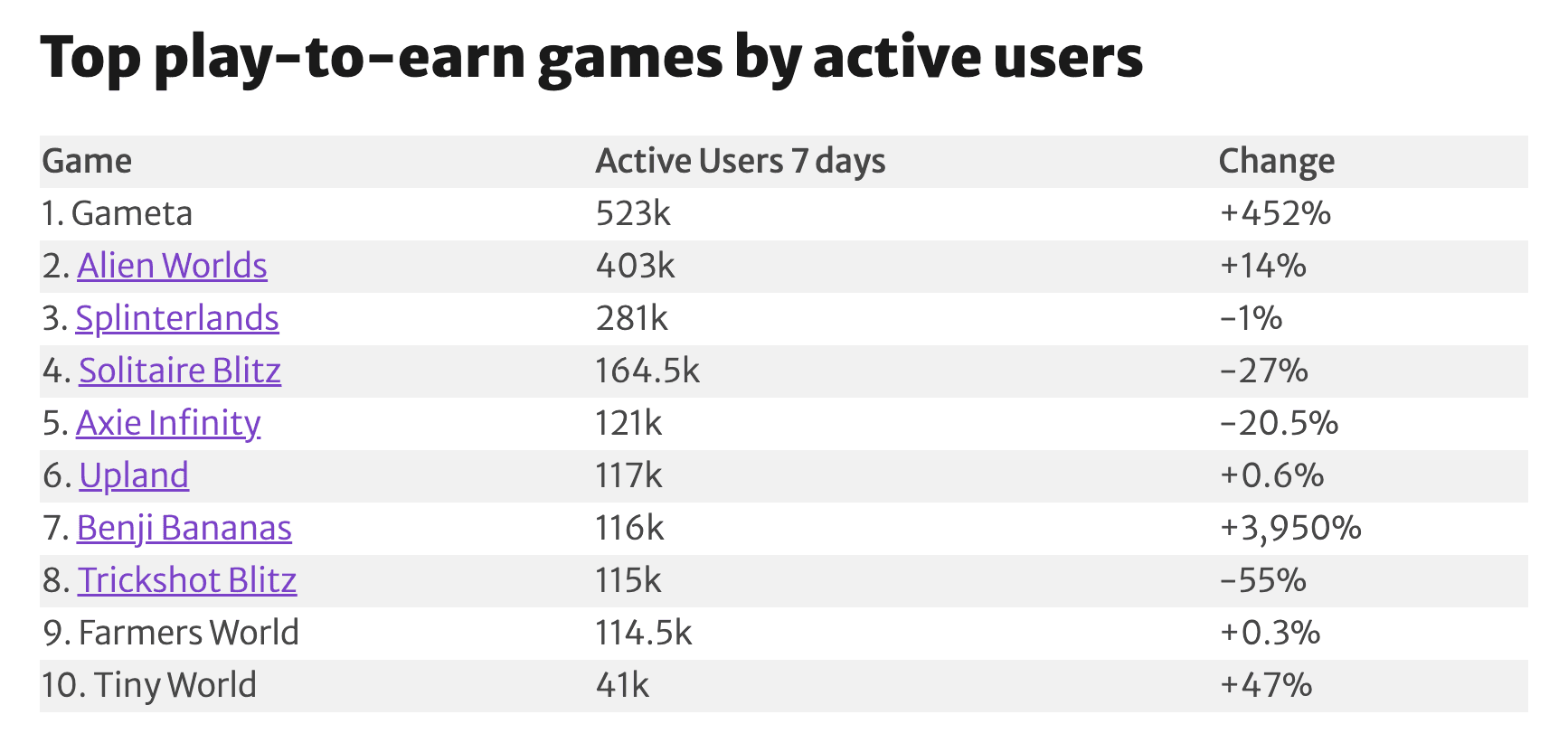 As stated in Dappradar (2022), the UAW and transactions are steadily growing, keeping up with the ranks in October. One of the probable reasons why the UAW has skyrocketed is that Gameta provides newly registered users free tokens and NFTs upon their registration.

Financials
The token sale period has not been defined yet, so there is not much history and metrics where investors can assess and decide whether to go for this coin. According to (IcoDrops, 2022), Gameta plans to release 1 billion tokens in circulation with a fundraising goal of 20 million USDT.
Conclusion
Based on the research, we believe Gameta will still have much to offer to web3 gaming. The team has been brilliant in creating simple and fun games, facilitating the smooth transition of web2 gamers who wish to level up (Play to Earn, 2022). The right combination of utility features, incentives, and regular community giveaways, has proved to be a potent recipe for success.