Overview
4C Trading is an online platform offering trading bots, trading signals, education materials, and a community of professional traders.
This article will review the platform and discover if it is worth the money.
Features
The most prominent features of 4C trading are the following.
4C Trading Smart bots
4C trading offers fully managed trading bots for BTC, ETH, LINK, BNB, and SOL tokens. These bots have predefined position size and risk parameters already built in, which means you don't need to worry about any extra configuration. You only need to open a Binance account and fund it; then the software will do the rest.
Note that the bots will trade 100% of the available capital, so you need a different account or sub-account per bot. You also need to consider that there is a maximum allocation limit per bot, which depends on your membership tier.
4C Trading Smart Margin (deprecated)
The 4C Smart Margin is a signal service that runs in the now-defunct FTX exchange. It appears that the signals have been discontinued, so the users can no longer avail of this service.
4C Learning (purchased separately)
The 4C learning course costs $599 and includes 3 months of access to 4C Trading tools. The course includes 17 sections designed to take you from a beginner to a profitable trader. It also includes 1-year access to the 4C-Trading Weekly Report and a coaching call with one of the 4C mentors.
4C Investors club
The 4C investors club is a special membership for high net worth individuals. The membership takes a cut of the profit instead of a fixed monthly fee, and it gives access to the range of 4C tools.
The fee schedule is as follows:
$50,000 to $100,000: 26% fee
$100,000 to $250,000: 22% fee
> $250,000: 18% fee
Ease of Use
4C Trading tools are very easy to use, considering no input is required from the user. The bots are completely automated and have no configuration settings.
Pricing
4C trading offers the following pricing tiers: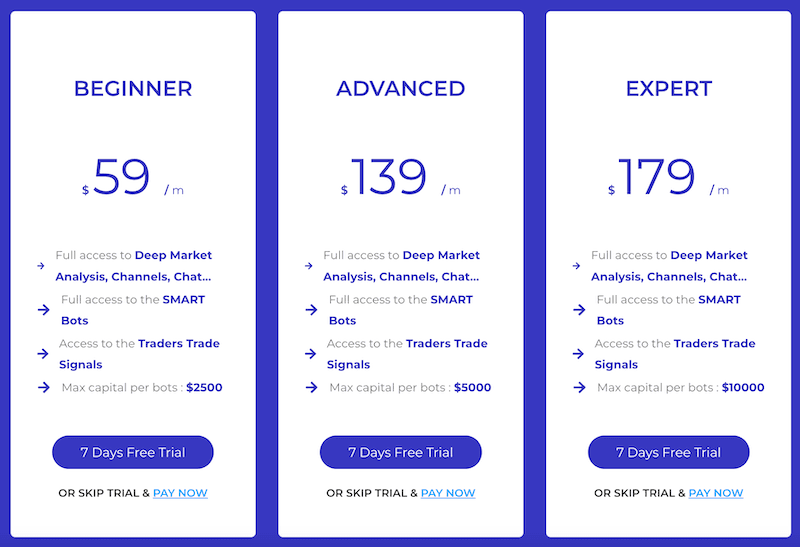 The pricing is in line with other signal providers. The advantage of 4C Trading is that it comes with fully integrated bots, so unlike other signal providers, you do not need a separate subscription to connect the signals to a bot.
Updates
4C trading does not appear to be updated recently. Their last smart bot report dates back to November 2021. There are numerous signs on the website indicating the product is no longer being updated, including the roadmap (which shows the year 2022) and continuous references to FTX exchanges, which imploded months ago. It seems that the website was last updated on 2021.
4C Trading VS Gainium
Conclusion
4C Trading offers tools for beginner traders who want to automate cryptocurrency trading altogether. However, the tools are dated, and it appears they are no longer maintained. Therefore, as of now, we cannot recommend this platform, and we would encourage users to look for alternatives.